Feel
Feel (Curb Records)
By: Alex Steininger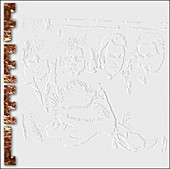 Fronted by ex. Wanderlust and Bachelor Number One songwriter Scot Sax, Feel is where Sax's heart is. A former songwriter for Warner/Chappell, a job Sax loved, and was paid well for. Once it became more about crafting hits for teen pop stars than the feeling in music, Sax traded in the sure thing and went back to doing the only other thing he knows how to do, fronting a pop-rock band.

The result of that fateful decision is Feel's debut, the first record to be released on Nashville Pop label Curt Records' new rock division.

Including the song "I Am The Summertime", which began as a Wanderlust demo, and later found itself on the "American Pie" soundtrack. Feel offers up ten melodic pop songs with plenty of feeling, impeccable production, and lyrics that remind you why music is so moving, it speaks for you when your words just don't do.

From the hook-laden to the breezy, Feel delivers pop music ready for the radio, but with enough substance to withstand radio's (hopeful) saturation of this record. I'll give it a B.