Jeff Buckley and Gary Lucas
Songs To No One 1991-1992 (KnitMedia, Inc.)
By: Alex Steininger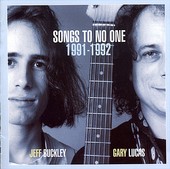 Culled from studio sessions, home tapes, and club performance, Songs To No One 1991-1992 finds a young Jeff Buckley teaming up with former Captain Beefheart guitarist Gary Lucas in a new edition of Lucas' band, Gods & Monsters.

Capturing Buckley's young voice coming into its own as it sores over Lucas' music, the two make a dynamic team, a partnership the young Buckley was willing to embrace until the urge to be his own act overpowered him and he left.

Before his departure, however, Lucas and Buckley made quite the musical connection, as demonstrated on Songs To No One. Hear as Lucas' meditative guitar playing underlines Buckley's sensation singing. Early versions of Buckley's "Mojo Pin" and "Grace" (both a studio demo and a live version) also make an appearance here, making this an archival-must for fans of Buckley's. I'll give it a B+.