Jesse Malin
The Fine Art of Self Destruction (Artemis Records)
By: Alex Steininger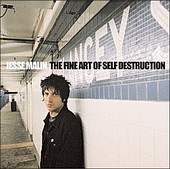 Produced by Ryan Adams, Jesse Malin instantly wins credibility. But can he back it up? The Fine Art of Self Destruction says yes.

Not unlike Adams, Malin moves through alt-country, tender pop, rock 'n' roll, and other genres without the blink of an eye. "Queen of the Underworld" is a rough country-rock sing-along, Malin's muffled, scruffy voice leading the way.

"Wendy" is a full-on rocker, hinting at the punk/hardcore upbringing of Malin's past. And then there is "Brooklyn (Acoustic)", Malin's acoustic rock song that sounds as rocking, if not more rocking, than a vast amount of electric songs out there. Though, implementing spacey elements, Malin keeps it toned down, the results an eerie song of experimentation, one that showcases Malin's genre-crossing, multi-sound abilities in one package.

"Solitaire" is Malin's singer-songwriter song, breaking it down to the basics, his voice and an acoustic guitar, and building from there. A stunning combination that finds you loving Malin's voice and lyrics.

And then there is the pop song, "Cigarettes & Violets", Malin's voice adding the country element to the song, taking an otherwise glossy pop number and turning it in to an edgy, rough, emotionally-charged number.

Beyond the production and guitar work of Ryan Adams, Melissa Auf der Maur from the Smashing Pumpkins and Hole, as well as Joel McGinty (Ween, Spacehog, Psychedelic Furs) also make guest appearances.

Everything adds up, Malin is a tremendous talent, a songwriter that does what few can do, jump around from sound to sound, and still make it sound urgent and poignant. Seems Malin picked up a thing or two from Ryan Adams. Or, taught him a thing or two and decided to do it himself finally? I'll give this an A.