Nada Surf
Let Go (Barsuk)
By: Alex Steininger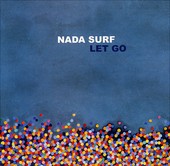 On their third full-length, and most diverse album to date, Nada Surf, free of label pressures, has recorded a beautifully, simply brilliant record in Let Go, an album that shares a title with Avril Lavigne, but nothing more.

Opening with "Blizzard of 77", the band starts out with a poignant acoustic pop song, before taking you on a journey through the post-punk and power-pop of past. They also delve into their quiet side, a face the band feared showing on their previous two full-lengths, but embrace on Let Go.

"Happy Kid" follows, making no bones about its desire to rock, the band playing with fuzzy guitars boasted by plenty of help from the rhythm section, "The Way You Wear Your Head" also feeding the band's post-punk leanings. All the while, "Hi-Speed Soul" and "Treading Water" find the band offering up strong power-pop.

However, the album's true highlights are songs such as the other acoustic cut, "La Pour Ca", a pretty, soft pop song sung in French. "Inside of Love", a beautifully set pop song, the dreamy "Blonde on Blonde", and the indie-rock meandering of "Killian's Red" are three other fine examples of the album's ability to stray off the original path and come back with plenty of treasures.

Nada Surf's vision on Let Go is what makes the album so great. They swallow all their fears and take chances, playing slow, playing without loud guitars, and choosing emotion over singing along, all while offering up plenty of those as well. It is a strong third album and the record that should put them back on radar, at least in the indie world. I'll give it an A.