Rainer Maria
Long Knives Drawn (Polyvinyl Records)
By: Alex Steininger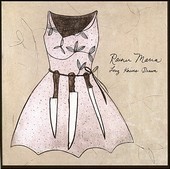 Quite possibly the band's swan song, Long Knives Drawn, the latest from Rainer Maria, is a stunning collection of post-punk rock turned into melodic, hook-laden indie fare by three fans of music who have fun getting together and hammering out three and a half minute nuggets. Bursting with loud guitars, sweet, dripping melodies, and the wailing vocals of front woman Caithlin De Marrais, Long Knives Drawn is the band showcasing exactly what they're capable of.

When the band shifts to more subtle rock rather than offering up a head on collision, De Marrais' vocals, which usually contrast the noise with sweetness, offer the slower songs the edge that propels them back into the rock. Her voice just has this razor sharp slice to it. Whereas on past albums it was off-key and sometimes ear-bleeding painful, she's learned to capture the power and the emotion and drive it in the direction of the songs, keeping it on key while still adding personally and bite.

That is what makes Long Knives Drawn the band's best album to date. It features Caithlin De Marrais on top of her game. While guitarist/songwriter Kyle Fischer executes his ability to craft melodic indie rock without a hitch. Proving that last year's solo debut, Open Ground (Polyvinyl), Fischer's softer side (which lacked the juice of Rainer Maria), hasn't softened his ability to get out their and turn up the amps. Here he writes songs that find drummer Bill Kuehn and De Marrais (who plays bass) shoving the rhythms to the extreme, further driving the songs to a point of marvel. I'll give it a B+.