The Delgados
Hate (Mantra/Beggars Group)
By: Alex Steininger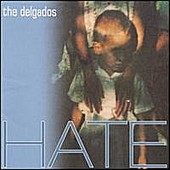 Following up 2000's The Great Eastern, a superb pop album in every sense of the word, The Delgados further embed themselves into pop. Taking the ambition of The Great Eastern and going even further, striving for a fully orchestrated, rich, undeniably smooth record worthy of the title "masterpiece".

Do The Delgados achieve such a bold hope? Whereas other mere pop bands would crumble at the unreachable dream, The Delgados conquer, without question, their own plans, delivering an exquisite album that leaves even those who cherished The Great Eastern wondering, "How did this band record such a milestone record in their relatively short career?".

Hate is only The Delgados' fourth full-length. However, if you didn't know better, you would swear it was the crowned jewel of their illustrious career, the record they spent years and years striving to make and, once put to tape, were never able to recapture decades later.

Hopefully that won't be the case. With only six short years under their belts, The Delgados come off as mature vets of pop music, proprietors that sound as if they had been around for quite some time.

And that is why Hate is so genius, so monumental, and so unforgettable. Decades from now people will still cling to this record, describing it as an influential pop turning point in their careers.

From the insanely infectious "All You Need Is Hate" to the sparkling melodies of "Coming In From The Cold", through the sobering "Favours", The Delgados take rock to a new plateau. Offering you up fully lush, orchestrated moments of bliss one minute, turning a corner and swinging some guitar-pop the next, and then fusing the two into a bombastic, majestic outpouring of love and life.

The Delgados' Hate is deeply loving, kissing you with tender pop, hugging you with the right amount of orchestration, and making love to you, as it does the pop it creates, with soothing, gentle melodies that caress as much as they snuggle. I'll give this an A.