Owl & The Pussycat
Owl & The Pussycat (Kill Rock Stars)
By: Alex Steininger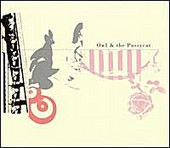 Somewhat of a 'super group', if you will, Owl & The Pussycat is made up of Greg Moore (The Moore Brothers) and singer-songwriter Lois. Together the two create some of the most beautiful, emotionally sweet acoustic pop songs in the past few years.

Lois' breathy voice alongside Moore's softer, plaintive style creates a beautiful contrast, one that soars during the duets and sends you reeling when they trade off lead.

Straightforward acoustic songs fused with airy pop. The outcome of this self-titled release is the beauty of spring with the tranquility and solitude of the fall. It is a rich, warm record that is comfortable strumming and picking the notes in a near-fragile style, but equally content bubbling from chord to chord, joyously filling the air with relaxing, happy-go-lucky pop notes.

If melancholy ever met its match, it would be Owl & Pussycat. With songs that come close to sounding melancholic at times, while others touch upon the uplifting, the ability to touch upon both spectrums while living in the middle creates a record that will find you spinning it over and over again. You'll find comfort in its strong arms and friendship in its wisdom. I'll give it an A.