Yo La Tengo
The Sounds of the Sounds of Science (Egon Records)
By: Mark Sullivan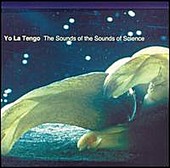 Even before reading the liner notes, I knew that the movie this music was meant to accompany must be set undersea. The soundtrack epitomizes what Simon Reynolds once dubbed "oceanic rock."

Indeed, this score was created for The Sounds of Science by Yo La Tengo, who premiered it live at the San Francisco International Film Festival of 2001. But I've never seen this collection of underwater documentaries and doubt I ever will. So I'm left with the music. This is a collection of 8 mood pieces, averaging about 10 minutes a piece. They are all pretty repetitive, in the good, minimalist groove sense of that word, but each piece draws on a slightly different musical style. Their great blessing and curse, Yo La Tengo have always displayed their influences openly.

"Hyas and Stenorhynchus" echoes Martin Denny's exotica. "Accra or the Witches' Dance" could be a more disciplined Grateful Dead. "The Love Life of the Octopus" employs the looped guitars of Loop or Spacemen 3 and is particularly reminiscent of the latter's eponymous homage to Suicide (the influential NY group, not the act of self-annihilation). And what would a Yo La Tengo album be without at least one track inspired by the Velvet Underground? "Liquid Crystal" is in much the same vein as the noise jams the VU played in their own role of providing live soundtracks, for the films of Andy Warhol in his touring multi-media show, the Exploding Plastic Inevitable (an excerpt of which, "Melody Laughter," can be heard on the VU box set).

Now even Yo La Tengo must recognize the limited appeal of this collection, as they have released it on their own Egon label (available on their website). It's certainly not a worthy successor to their last and perhaps best album, And then nothing turned itself inside-out, but it should help fans pass the time while we wait for the next real album. I give it a solid B.