Chica Lishis
Gogol Bordello, War Protesting, The Oscars, And Some Other Stuff I Just Threw In
By: ChicaLishis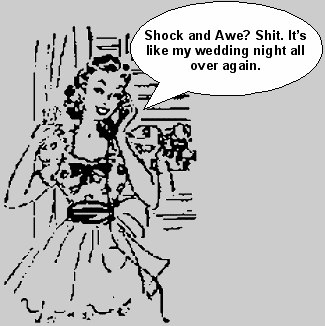 Last Friday night, Baghdad burned while Gogol Bordello fiddled, and, quite frankly, what could be a more appropriate musical backdrop to the end of the world then the fiery onslaught of whatever the hell it is that Gogol Bordello does really, really, really well? Back-up screamers, an accordion player, one fiddling mother-fucker, drums, guitars - acoustic and otherwise, hand held cymbal crashes... shit, I don't know what all else they had going on up there. It was glorious chaos. There's the frenetic energy of Eugene Something-Or-Other, who keeps himself front, center and mostly upright, while rasping thickly accented lyrics in a throaty tenor, tinged with campfire smoke, blood-red wine, and the livers of stolen peasant children. He's tall, scrawny, and sports a mustache too big for Andre the Giant's face, let alone his chiseled mug. You can't take your eyes off him, unless, of course, the back-up screamers are on-stage, in some creeptacular garb reminiscent of Chitty Chitty Bang Bang wardrobe rejects, in which case, you can't take your eyes off them. Unless, of course, the frenzied fiddler is at the front of the stage, then you can't take your eyes off him. Unless, of course, the accordion player is squeezing and wheezing away at a million miles an hour, then you can't take your eyes off him, and so on, and so on...

You get the picture.

According to the website, http://www.gogolbordello.com, this tour will be pretty much wrapped up by the time you read this. If you aren't a NYC native, you'll have to wait for their next foray out of the big city and into the backwoods of the rest of America, so's you can revel in such hell-bent, Gypsy punk madness.

Have you been protesting the war? I go everyday. When the person with the bullhorn screams, "What do we want?" I reply as loud as my lungs will allow, "ICE CREAM!" And when they follow-up with, "When do we want it?" I bellow out, "NOW!" While, I had hoped my fellow protestors would catch on and join me in this unique and practical variation of that tired old protest rant, they instead tend to eye me warily, and then pelt me with rotted fruit. Yet, I do not despair, and make the trek down to the plaza daily to convert the masses. You see, peace is all well and good, but ice cream? Now that's delicious!

Those brave celebrities, going on with their little Oscar party amidst all the chaos of the world. And it was real swell of them to skip the red carpet hazing in honor of our troops across the ponds; how the glitterati suffer. Oh look! They're going to do a number from Chicago, my pick for best flick and... HOLY SHIT! DID CATHERINE ZITA JONES JUST GAIN LIKE, 50 MILLION POUNDS, OR WHAT? Wait a sec, she's turning sideways... turning sideways... turning... turning... oh thank God, she's just pregnant. Phew! That was a tense couple of seconds.

Ah cripes. Inside Edition just reported that "In war, you NEVER KNOW what you're going to see." That statement is just too stupid for even me to ignore. Now I shall have to find myself another source for hard-hitting news (sigh) again. Maybe Entertainment Tonight will bring John Tesh back? Those were good times.

I've been having a lot of fun with myself by substituting the word "war" with the word "whore." Every time Peter Jennings says "The War On Iraq," in my head I hear, "The Whore On Iraq," and then giggle uncontrollably. I also enjoy substituting the word "Saddam" for "my Mom," and "United States" for "Mates of State." It's not much, but it gets me through the day.
Go safely into that goodnight,

Never can say goodbye? Then say "Hello Chica!" at [email protected]