INTERVIEW: Say Hi To Your Mom
Getting out of NY, Alien Abductions, And Influences (Say Hi To Your Mom's Web Site)
By: Angelo De Ieso II
Photo By: Kira Sugarman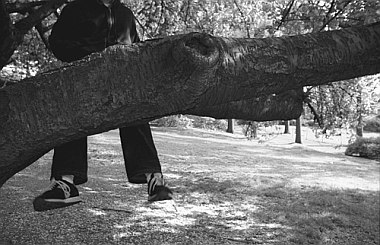 Eric Elbogen of New York City's Say Hi To Your Mom talked about his first national tour for which he is riding solo. He also discussed the origin of his band name, being abducted by aliens, and the influence of hair bands on his music.

Angelo: How are you doing, man?

Eric: I am doing well. Yourself?

A: Good.

E: Good to hear.

A: Tell me a little bit about your travels in support of your new album "Discosadness"--

E: Let's see--I put the record out last August and this is the first time I've hit the road, my first time out of New York City. I've had a few shows here and there, but this is the a little bit extensive. Believe it or not, I actually left New York almost a month ago to go to southern California and start working on the next record. I guess it is good that people aren't sick of this one yet. So, by the time you do get sick of it, I will be done with the next one.

A: Most of your recording was done in your bedroom...you do your own mixing, your own production and everything?

E: Yeah, pretty much. Sometimes if I'm recording live drums I'll do it in a different space because my bedroom usually can't get too noisy. But, yeah, for the most part, it's just me cooping up with a pair of headphones and various gadgets and whatnot, trying to get crazy--

A: What kind of impact has living in Manhattan in a not-so-big apartment has had on your music?

E: Have you been to NYC?

A: Yeah, 3 times--

E: Well, you know it is a fascinating place. It is so dense with every kind of person you can imagine and the architecture is beautiful. And the nightlife is obviously pretty amazing. Everything stays open 2 hours later than the rest of the country. So, the combination of all of that and being in a city with so much history, I usually can squeeze out enough inspiration to try and write some songs.

A: Your album is primarily you doing most of everything. You have a few people helping out, how does that differ for you from your live act when it's not just you? You have a four-piece right?

E: It ends up, even though I hate using this word, more "organic"-- which is good--I guess. On the record there's lots of crazy background synths going on and stuff like that, so sometimes it's actually a little bit difficult reproducing it as a four-piece so we have to tweak the arrangements a little bit, which I don't mind at all. I'm bummed out when I go to see bands live and they sound exactly like their record. It almost seems like they could just be playing the record and lip-syncing. I'd say that there are a couple tunes that are pretty faithful to the sound and arrangement of the record, but the rest are different a little bit...some of them are more rocked out, some of them are a little mellower.

A: You have a fascination for robots or an Orwellian future--tell me more.

E: I don't really know where that came from. When I started this band, I made a conscious decision to not draw from traditional inspirations. Unfortunately the traditional unrequited love theme creeps in but for the most part I have enjoyed writing about the mundane and everyday things that many people don't really take a look at.

A: Would you consider yourself a computer nerd?

E: Uh, yeah probably.

A: Do you think that has something to do with a certain facet of being a computer nerd that correlates with a sort of unrequited love? I think of other groups like Figurine...

E: Totally.

A: --who tie in hopeless romance with computer problems, you have the opening track on Discosadness named "Fritz"--Is that anything of the sort?

E: You know what, I wish I could say that I lived as tragic of a life as you described (laughs). Unfortunately I am not in front of the computer 24 hours a day and I do have somewhat of a social life, which probably hurts my art. I've always been fascinated by that guy Jimmy (from Figurine) and Ben Gibbard in Postal Service. The Figurine guy just seems like such a prolific genius.

A: Back to Say Hi--How's touring been and what's the buzz about you like in the Big Apple?

E: To be honest, it's still somewhat of a new project. The record was put out in August--it's been kind of a slow ride trying to get things done--mostly we've been playing around NY. It's been a great experience. I put the record out on my own label, which I recommend to any aspiring musician, but that can be limiting sometimes in terms of funding and resources...and in August, nobody knew who the hell we were, so it was a lot of sending the records out, trying to get better gigs. This is actually the first extended tour that I am doing. Mostly I have been playing around NY, like in Jersey and Pennsylvania. I've done a few shows in L.A. where I grew up, but this is my first time to the Northwest. It's pretty exciting.

A: Back in L.A., you played in Love Ruckus, how has your experience in Say Hi To Your Mom differed from that of LR?

E: To tell you the truth, Love Ruckus went through many incarnations. It started out as a band and turned more into my project where I would hire different musicians to do it with me. So, that is sort of where I got on the trip that I am on now in Say Hi To Your Mom, making the records on my own and bringing people out to play with me. I have played in lots of bands where I was the songwriter; I played bass in a bunch of bands. And it's always different experience when you're trying to realize another songwriter's dream versus arranging and getting everyone together.

A: What are some of your influences?

E: My influences are all over the place. I started playing music in the late 80s, early 90s, and unfortunately, I regret to say that mostly big hair bands are what initially inspired to me to pick up the guitar. Then I went through a classic rock phase when I cooped up with the Beatles, the Stones, and the Velvet Underground, and stuff like that. That definitely had an influence on me. Through time my tastes have become a little more obscure. I'm kind of a freak about lots of different indie bands. I'm sort of a geek about seeking out some of the smaller bands that are making just as good of music as the major labels and big indies are putting out. Maybe they don't have enough money for a publicist or a booking agent so you won't hear about them.

A: Any band you enjoy playing with in New York?

E: I'll be honest, NY is a huge town and there's a lot of bands there. Usually that means that 90% of them are pretty awful, so we've actually played with some pretty bad bands. There's great stuff coming out of NY now, which I have unfortunately not been on the bill with anything too thrilling.

A: So tell me, Eric, where did you get the name "Say Hi To Your Mom"?

E: That's an interesting story--basically it was the first time I was abducted by aliens. They beamed me up into their little ship and did what aliens usually do to human beings. I was there for about 6 weeks or so. And as I was about to be beamed down back to earth I had this sort of epiphany because one of these aliens came up to me and said "Say Hi To Your Mom" and I was like "What do you mean?" Then the alien said, "You know we had your mom up here several years ago." So that's kind of how the band name came about. I always knew my family was weird, but when that aliens said "Say Hi To Your Mom" to me, I realized why they were so weird.

A: So would you say that your abduction by aliens was anything resembling scenes from the film Fire In The Sky? I always wondered if that was true. That film had a big impact on me.

E: That movie scared me when it first came out. Yeah, yeah--It was kind of like that. Not so much afterwards, because the guy in the movie really flipped out after he got sent back to earth, you know what I mean. And after I got sent back to earth, I had material to write songs about.

A: So you didn't go completely over the edge after the abduction?

E: No! But who knows? It might creep up eventually.

A: Very interesting. I thought it was a mom joke or something like that. That's not so clich?.

E: Yeah. Unfortunately, most people tend to think that at the beginning, and they actually I've found they won't take a listen to the music because they think it's something like a Blink 182 rip-off band because it could be that type of humor. But for me personally, I think it works well for an indie band. I think it would be kinda cheeseball if I was Blink 183, you know.

A: Where do you get the various sounds on your album? There's so many interesting noises on Discosadness.

E: It's actually all just instruments and messing around with different guitar sounds. "Fritz" uses some spring reverb as a percussive effect and then other weird moog synths that are tweaked out in various ways.

A: Your music seems like a cross between goofy and serious. Where do you draw the line? Which one outweighs the other?

E: I really do try to make it as wacky as possible because it hurts me when other bands take themselves too seriously. But, the serious stuff, unfortunately, does come creeping in, which is probably good because if it was too much of a joke band then maybe people wouldn't take us that seriously. Like Jack Black's band--What's the name?

A: Tenacious D.

E: Yeah.

A: More thoughts about the album and the music--Where are you going from titles like "The Pimp and the Sparrow", "Kill the Cat", a lot of out there stuff?

E: Well, there is going to be more "out there" stuff on the next record. I'm working with about 23 or 24 new tunes right now. I don't know how many will make the final cut. Some of them are pretty weird. There's going to be a couple tracks on the new album that are more upbeat than on Discosadness, but I actually never know until I'm done mixing how it is going to turn out.