The Ringles
Dish Full of Ringles (Jam Recordings)
By: Gary "Pig" Gold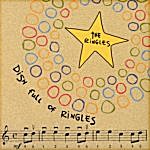 Having first spotted these fellas raved about over in "Outer Shell" Magazine, I got hold of their debut wonder-disc and continue to be bowled clean over by the brittlely, trebly, pure powerful guitar-fest these ten songs certainly offer.

Like a Rooks with attitude (on "Jennifer Love" especially) or, closer still, as if their proud Jam labelmates The Lolas had snuck out some secret album in disguise (again, coz the guitars are just SO plentiful!), The Ringles honestly do seem to have hooks upon hooks ...and then with lots of hooks to spare! I mean, the keyboard line throughout "Colour Of God" alone will grab even the most unbelieving of ears, and may I just say that the somehow cliche-free backwards tapery underlying "Sour Dough Sky" actually helps live up to its very song-title! No mean feat indeed.

So, like track 8 advises, grab this gem and help The Ringles help YOU have one great big, thoroughly bubblicious googalick boop of a day!