Thee Michelle Gun Elephant
Collection (Alive / Bomp!)
By: Gary "Pig" Gold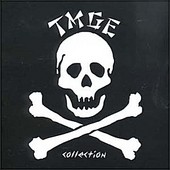 Never mind the Hives -- PLEASE -- coz Here's the Real (guitar-chewing, possibly ironic even) Thing, direct from Tokyo no less, with one high-thrash, hour-plus overview of their big loud career to date.

Yessir, "Collection" is stuffed full of every single one of TMGE's Should've Been Greatest Hits, each deftly bridging that gap between Johnny Kidd, The Stooges, Mooney Suzuki and well beyond. Why, the very first track, "Pinhead Cramberry Dance," actually DOES live up to its Song Title Of The Year (whilst sounding somewhat as if the Stray Cats truly were COOL Cats). But then "Why Do You Want To Shake?" proves, once and hopefully for all, that that Clash certainly was NOT the Only Band That Mattered ?, whilst along similar fine lines "GT 400" and especially "Baby, Please Go Home" must certainly have Joey the Ramone Blitzkrieg Bopping within someone's grave, you betcha.