Canada Calling! With Your Host, Bruce "e-Mole" Mowat
This Month's Topic: The Raving Mojos' Church of the Latter Day Rock
By: B.F. "Mole" Mowat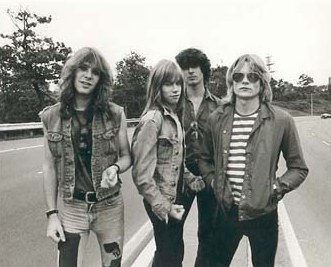 I first saw The Raving Mojos perform at the Golden Garter on Dundurn Street South in Hamilton Ontario more than 20 years ago. Back then, the "Gutter" was thee place to see non-rote rock and pop acts: The Iguana Puppets, The HooDoos, Common Language (featuring Dan Lanois' squeeze of the hour, Debbie Griffith), Sylvain Sylvain & the Teardrops (on a New Year's Eve, no less!) I could go on.

The Raving Mojos were completely out of step with the zeitgist: a lead singer with a Brian Jones pageboy 'doo, and a sound that reached back to the proto-punk continuum of the "Nuggets" LP/Velvets/Stooges/Dolls and country/blues roots sources (via way of the Stones). Absolutely no concessions were made to whatever electro-poop, hardcore, or goth stylings were floating around at the time. The most amazing thing about them was the fact they came from Toronto, a city with a music scene known for its penchant of hopping on bandwagons of convenience.

They'd mix self-penned rockers such as Yeah-Yeah-Uh-Huh (excellent title and featured on the disc!) and Real Wild Time (ditto, but sadly missed) with choice covers as Open Up Your Door (originally done by NJ 60's garage giants, Richard & the Young Lions) (and yup, it's on the disc!). They would also do The Stooges free-form freakout from Funhouse, "L.A. Blues" on request!

Yeah, The Raving Mojos were goddamn great, but the band dissolved in 1985, after recording slews of demos and playing to ever-decreasing crowds, most of which were drawn from the ranks of the Hamilton Cultural Appreciation Society (HCAS). Well, the "Gutter" has gone the way of the Dodo bird, (it's a Zarky's food mart now -- not a bad thing!) but The Raving Mojos banner has been raised once again by original members guitarist Kurt Schefter and sanger Blair Richard Martin. With the release of The Last Rock N' Roll Show Ever, the band's debut CD, the rest of the world can now experience the finest old-school rock outfit to come out of "Toranna" since The Ugly Ducklings.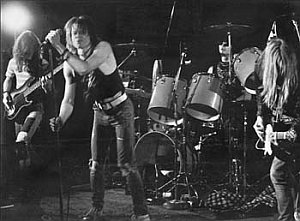 What happened in those years in-between then n' now? Well, original bassist Ken Fox went on to join Jason & The Scorchers and later became a member of The Fleshtones. Kurt paid the bills playing Black Velvet over n' over n' over again in Alannah Myles' band, while Martin played drums briefly in Teenage Head, shook off a nasty heroin habit, and joined a Cuban Son band, Klave Y Kongo. Original drummer Myles Dutton played on the new CD, but, alas, does not perform live with the band anymore.
Now, reunion CDs tend to be dodgy propositions, so I was hesitant at the prospect of wading through TLR&RSE. Silly me, I shouldna worried: of the 11 tracks present at least 8 of 'em are keepers. You get all the good stuff I mentioned before, and some ache great ballads. It's kind of structured like the Stones' Sticky Fingers LP (and NOT Let It Bleed-tsk tsk Tim P, for not knowing your Stones LPs! DUDE!) The first half opens with a Doll-ish take on the Velvets party anthem "We're Gonna Have A Real Good Time Together" followed by the bum-pounding Lions cover. The band then swings into the choice poop-kickin' ballad, "Sweet Suzanne", picks up speed again with "Uh Huh", and closes off the half with the extended work-out "Keep On Workin' "- (presumably the equiv. of "Can You Hear Me Knockin'.") The latter song doesn't, uh work for me, but the batting percentage so far is good, so--
"Won't Be Coming Home No More" sports a latino rhythm, presumably cross-ref'ing from Martin's past experience. "Sentimental Journey" & "Another Sad Song" continue in ballad mode a la Nikki Sudden's solo work w/ref's to self-pity, inertia, all that good mopin' stuff. "How Do I Move?, picks the tempo up (Answer: it moves fine) "Outta My Head" is a MC5 tribute/cop: I'm not totally enamoured by it, but the thought was nice & they DID pay attention to detail, soo--
The CD closer "Long Way Down" may be the single best thing on the disc. It's a confessional ballad, done up with plaintively strummed acoustic guitar and a chamber string quartet arrangement courtesy of Kurt. Lacking the funds to hire a full orchestra a la the Stones'"Moonlight Mile", (see what I mean by the Sticky Fingers ref?). Mr. Schefter did all the parts hisself, and it sounds swell. The overall effect compliments Mr. Martin's harrowing tale of kicking the habit in various North American centres. The sad thing is the national broadcast medium referred to as the "CBC" (and I don't mean Terre T's"Cherry Blossom Clinic", Saturday's from 5 to 7 p.m. at www.wfmu.org) will probably not play this piece, as it does not fit any of their anally "formatted" shows. I have no such problems, though, and that piece (among others) WAS featured on Underground Parking. So there.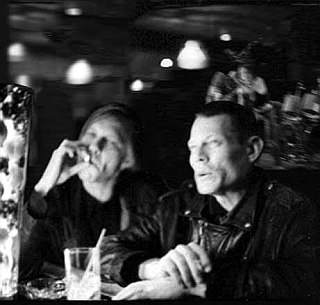 I saw the band for the first time in 19 years at the Underground in Hamilton, Ontario on June 13, 2003. They looked older and Martin doesn't flop n' jump about like he used too, but it was still tres cool. Martin looked a freshly-sprung POW doing Sinatra poses! The band did a Simon & Garfunkel song and made it sound like vintage Shake Some Action-era Flamin' Groovies! Ahoy! .
Tangiers Rhymes With "Beers": specifically Guinness and Harp, if my beady eyes do not deceive me. Were I to switch one of those Guinnys for a Beamish, though, I'm sure the lads would thank me, but I'm off-topic here. Stouts ain't what they used to be, and neither is the state of Rock 'n' Roll in this country but Hot New Spirits, the latest from this foam-swilling Toranna foursome is --okay. I like the tracks with the Amerindie buzz feel to them best, e.g."Eyes Shut" "Anxiety". The songs with the drum arrangements that sound derived from Clash-influenced outfits slay me none, though. You may think differently and this and OTHER fine Sonic Unyon recordings are available thru: Allegra/Nail in the States.
You may have noticed articles in this 'zine in the past few months on Daniel Lanois and Manitoba- both hail from my hometown of Hamilton! I try not to play favourites, but it's damn difficult when your hometown TOTALLY DOMINATES the National music scene(s - "post-rock cultural pluralism"). So, here's the deal: Prove me that I'm wrong! I'm looking for acts from the Territories, the interior of British Columbia, Fort MacMurray, Quebec (talk about separate scenes!), P.E.I., and Fredericton, N.B. If you are from those places, send me your work o'genius: c/o Creative Radio, #3, 431 Barton Street East, Hamilton, Ontario, Canada L8L 2Y5.