Helloween
Rabbit Don't Come Easy (Nuclear Blast Records)
By: Vinnie Apicella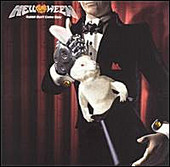 Helloween's latest is another adventuresome foray into the popular world of Melodic / Thrash Metal they helped create 20 years earlier. In spite of the departure of Uli Kusch and Roland Grapow (drums, guitars) between "Rabbit" and their previous "Dark Ride," the sound's potent yet progressive as they lift the dark cloud and return the rosy glow of before. Their unusually titled new album is a work in pride, power, and phallic outbursts (substitute "rabbit" for another furry "animal" which men have tried to tame since the dawn of time and you'll be on the right track).

"Rabbit Don't Come Easy" shares many similarities with their excellent "Master Of The Rings" comeback in 1994, possessing that pent up passion and hostility that lacked since their "Keeper" days, commanding respect and admiration at once. They've been on a steady roll since then, maintaining the consistency of melody, speed and complexity and epic quality to the music with slight variations and risk taking freshness. "Rabbit Don't Come Easy" thus takes its rightful place among the many Helloween successes.

"Just A Little Sign" and "Open Your Life" are a combative one-two combination at the forefront, boasting playing speed and double bass attack compliments of the authoritative session fill-in Mikkey Dee (since replaced in the band by Stefan Schwarzmann according to the credits), either of which, on equal levels, can stack up against the best of the rest. "Never Be A Star" is crawl-like in comparison, very catchy, downright "gentlemanly" in many ways, riding out a choral crescendo fit for a crowd pleaser or bathroom break depending on one's taste.

"Liar" is a monstrous intrusion by mid-point, beginning innocently with the distinctive arpeggio-fed intro, duties now shared by Weikath and newcomer Sascha Gerstner, before going rhythmically ballistic and borrowing a bit of black from "The Dark Ride" and Deris' duplicating the decibel drop-off and desperate tone for this most aggressive of cuts. Conversely, "Don't Stop Being Crazy" is "In The Middle Of A Heartbeat" with a stronger pitch -- speaking of which, there's more band participation where the backing vocs are concerned -- "Do You Feel Good" is an experimental misstep that's easily forgettable amongst the rest; "Hell Was Made In Heaven" brings back the emotive firepower and opens like a classic Scorpions tune on steroids before following rank to an atypically "Weenie" style track-- still those "Love Drive" overtones aren't quickly dismissed.

"Back Against The Wall" and "Listen To The Flies" both would make better closers than the eight minute amalgamated mess that is "Nothing To Say," with the latter another hyped up Speed Metal maneuver with quick change tempo and aggressive posture. "Nothing To Say" is an unprovoked combination of "Black Dog" and Bob Marley but does nothing to add to the appeal of the record overall which, for the most part, stands among the top two or three of their lengthy catalog. Tales of triumph, transition, seduction and sentimentality blend with power, progressivism and paginated pasty-faced pumpkins to create something uniquely Helloween and still state of the art amongst the rest.