Propain
Run For Cover (Spitfire Records)
By: Vinnie Apicella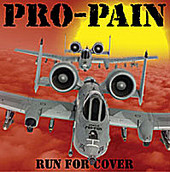 "Run For Cover" is a, surprise, "covers" album; an unprecedented feat by the HC/Metal veterans of nine albums. After a number of solid studio records, a live shot, and impressive worldwide sales, the band answered the call of fans and dug deep into their collective wells to pull off fourteen smokin' tracks that ride the rails from the early '80s to the near present stopping at every style of the extreme along the way. The fact they left off usual cover album staples like Zeppelin, Sabbath, and The Stones are enough reason to fork over a few for this one, which finds the potent, if predictable Propain right cross lifted in favor of a flurry of fists wailing away in differing angles, directions and speeds -- see Celtic Frost's "Circle Of The Tyrants" and LOA's "Weeds" co-existing on the same record! And served up handily by the suddenly stretched limits of Propain's playing, going off on early H/C and Punk classics like Discharge's "Never Again," and back to back, back in the day slam fests with Gary Meskil's own Crumbsuckers, "Just Sit There," Black Flag's "Damaged II," and a skull penetrating version of Agnostic Front's "Your Mistake" which still resonates even after Slayer's "South Of Heaven" smashes precept at the end. Covering Slayer can be a daunting task, even dangerous if not done right, and here it has its moments but the album's strength lies in the tear it up versions of the early underground.

Propain's a band with integrity like Motorhead, who they've credited and cover here ("Iron Fist"), and deserve the same praise in their own "predictability." Propain delivers without worrying fans with whimsical bouts of musicianship and age-induced dissent. They are what they are and here, they're about fourteen other bands, most of which come off really, really well, and surprisingly so because of the demands on their usual mid-paced and potent, Hardcore/Metal style. Pleasant surprises also include: "The Crowd," pulled from the short-lived Operation Ivy's first "Energy" album in the late '80s, sung by Propain guitarist Eric Klinger; You'd never know it was the same band -- nice job on this quick, uptempo, "Rancid"-like Punk tune; "100%" by The Spudmonsters, a pre-Propain project for the band's two Erics, featuring shared vox by Meskil and Klinger and a level of intensity synonymous with Morris-era Black Flag; For tackling the vox in German, lead singer Gary Meskil gets points for covering popular German Punks, Bohse Onkelz, on this very tuneful yet caffeinated "Terpentin" from 1996. There's a smattering of other surprises but nothing to leave you scratching your head. Propain's only attempt at a covers album hits head on, fires at will and will far exceed fan expectations after the first listen!