Jet
Get Born (Elektra Records)
By: Paul Hullabaloo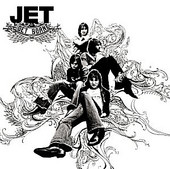 Get Born, the debut LP from Melbourne's JET stands completely in the vortex of an entire rockandroll generation's swing towards total esthetic and thematic musical reiteration. JET, much like England's THE DARKNESS, is an extreme conservative right wing copycat band, essentially a tribute band, not concerned at all with expanding form or even deftly channeling influence. You get it; the music is capable and simply realized, evenly produced and structured; outwardly predictable and ultimately formulaic. Which philosophically can also be what molds the best rockandroll. The difference is that the conscious duality necessary to pull off something like this does not seem to be present. JET, as an outfit, seems programmed to me; they reek of a band that has been pushed in a direction by cultural trends. JET is full of emulative qualities, but where is the self-referential wink that is now ingrained as part of the newly evolved formula? At what point does homage become lazy theft and how do you get away with, for the most part, a unanimously studied regurgitation of sound and vision? Bands like THE WHITE STRIPES and THE DIRTBOMBS etc. thrive because they streamline and subtly pervert preexisting genre material, JET simply delivers the songs exactly as they have always been recognized, minus any devious secondary subtext. It is because of this that I cannot partner myself with the personality of the band. This seems fucking fake.

"I think I smell a rat--.Oh, I think I smell a rat."

JET are Australians and sound like a suburban American teenage garage band doing Swedish interpretations of British songs.

"Last Chance" is THE HIVES covering AC/DC with a dash of early era KINKS dissolved into the mix, similar to the work of contemporary countrymen THE DATSUNS, except without any of the viscous explosiveness. There is an automotive hook to the songwriting; the songs contain a basic snapping thud. These are simplistic tracks dealing out manipulative sensitivity and self-centered sexual arrogance.

"Are you gonna be my girl?" is "Lust for Life", almost on an identical level, however, "Lust for Life" is just "Can't Hurry Love" minus the callously contrived naivete in the first place. It is a pattern of inescapable rock revivalism that must be a learned behavior.

A lot of other writers have been comparing JET to THE STONES, but, JET lacks the primitive griminess, the androgynous sonic swagger, basically, the stones that made THE STONES, well, THE STONES. There was always something unpredictable, something dangerously maligned about the psychology of THE ROLLING STONES. You can tell JET have no problems sleeping through the night and that counts against them.

I do respect the complete lack of outward social consciousness here. That is a breath of fresh fucking air. The type of fresh air not at all purified or protected by that asshole Bono and all of his anti-bacterial handshakes and political flashbulb accolades. True rockandroll does not give a shit about the state of world affairs; True rockandroll is bloated super ego, driven by the engine of satanic self-interest. JET tries so hard to own this feeling, but just doesn't get that it's not available in stores.

The production on Get Born is too bright, too sterile and realized for its own good. The songs are both produced and written in such a way that produces ZZTOP Syndrome: everything sounds almost identical, indiscernible.

JET is not a completely useless outfit, there is just nothing challenging about them. They blandly sink into the background when they should be reactive and feral. They should feel like instigation, they represent the last flesh ritual. It is this lack of threatening ferocity that I can't ignore and it is exactly what prevents me from ever really wanting to listen to 'Get Born' again. They have the sound of their heroes down pat, but lack all the genetic material that made them and their songs iconic.