Puffy AmiYumi
Nice (Bar None)
By: Alex Steininger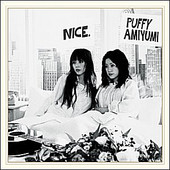 Brought to life by ex. Jellyfish member Andy Sturmer, the Japanese schoolgirls Puffy and Ami are back with another slice of pop perfection, Nice.

Nice is a record that spans the gamut from ska-punk ("K2G"), guitar-driven rock ("Planet Tokyo" and "Red Swing", the latter the same as the previous, with different lyrics), power-pop ("Sayonara", which means "goodbye for a long period of time" in Japanese), as well as ballads (like "Angel of Love").

The girls' voices melt together like marshmallows on graham crackers and chocolate (and sound as sweet as that combination tastes, too), regardless of the style they delve into.

And, though, some may criticize these girls for jumping around and playing with too many styles, one listen to Nice and it is clear the diversity is what drives the album, and that Puffy and Ami's pop music homage to the decades makes the record thrive.

Each song is a hit. It really is. And, even when you don't know what they're singing, you still fall in love. It's too beautiful, too sugary sweet, and too uplifting and enjoyable to deny. I'll give it an A.