Todd Deatherage
Dream Upon A Fallen Star (Summer Break Records)
By: Alex Steininger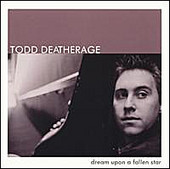 New York-based singer-songwriter Todd Deatherage and his band's debut offering, Dream Upon A Fallen Star is primarily roots-rock, Americana-pop. However, songs like "Over You", and its Samba grooves, or the swanky, lounge-pop of "Lose Myself", prove that Deatherage and his band can deliver a variety of sounds, and make them sound natural. Other songs like "Man of Me" and "My Payback" move along with standard country-rock fare. Meanwhile, "Desperate" is all cow-punk. The record also has its acoustic, reflective pieces, such as "Made It Thru".

Dream Upon A Fallen Star is a record for the lovelorn, a record that struggles with a broken heart, and the pains of breaking hearts, too. Deatherage's lyrics are both personal and universal, calling upon (what it seems like) a vast array of personal experiences, reliving his agony to give the listener both comfort and enjoyment. I'll give it a B.