Roxy Saint
The Underground Personality Tapes (Star Blue TV)
By: Alex Steininger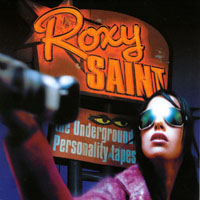 Instead of releasing a full-length CD for her debut, trouble making, rebel girl Roxy Saint, based out of Los Angeles, went against the grain and released a DVD worth of material. The selling point here: each of the 18 tracks on the album includes a video.

That's right, each song has a video. Roxy Saint is more than a musician. She is a filmmaker, too.

With that in mind, Roxy thought she'd shake up the industry a bit and do something different. And something different she did.

You can't play The Underground Personality Tapes on your standard CD player. You can only play it on DVD players -- computer or otherwise. But, when you do, you are treated to a delight. Eighteen songs and videos, and interludes/commentary from Roxy herself.

The videos - including one that features Queens of the Stone Age and another that features Coal Chamber -- ranged from the deranged to the insane, from fun to downright exciting.

As for the music, Roxy and her band, the Blackouts, deliver crunchy, guitar-based, industrial rock a la Nine Inch Nails, fueling the fire with melody, but not bowing down to pop as they scream and pound their way into your heads -- and hearts.

The Underground Personality Tapes is something that must be experienced to understand. The music, or the videos, can be written about separately, but to see and feel them together, it is a whole new ballgame.

The only disappointment here is the fact you can't play it on your audio CD player if you just want to listen to the music while you're driving around. I'll give it an A-.