The CruxShadows
Ethernaut (Dancing Ferret Records)
By: DJ Kreepy Krawly of Club Illuminati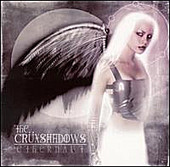 This new, full length album, released in November, is not to be confused with their 13-track ep/single "Frozen Embers". The album contains 12 new songs and includes the familiar track "Winter Born", on the off chance you have not heard enough of it.

Both old fans and new will enjoy this album, which portrays a further refinement and a return to their roots. This Florida-based Coldwave band has an the ever-evolving sound of that has made them a leader in thier genre, as demonstrated on this CD. This well-polished album contains a fusion of classical songwriting with an elegant melody created by violin and synthetic ambient elements.

From beginning to end, "Ethernaut" paints a story of love lost and betrayal in the minds of its listeners. The album starts with slower melodies, segueing into more up-tempo dance tracks such as "Untrue", "Waiting to Leave" and "Citadel". A down-tempo beat blends in a Mediterranean sound in "Afterall". Finally, it returns on track 17 to the melodic dance song of the love of youth in hindsight.

Recommended to fans of Peter Murphy's melodic sound, the synthetic music of Wolfsheim, or the ethereal dance of Butterfly Messiah.

RANKING: 3.5 out of a possible 5.