Suicide Commando
Axis Of Evil (Metropolis Records)
By: Vinnie Apicella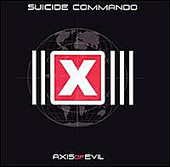 "Axis Of Evil" lives up to its name. The latest by Suicide Commando, the brainchild of Johan Van Roy's somewhat morbid imagination, features pointed commentary against a bleak world blackened by the dark side of human interest. Following up on 2000's "Mind Strip," Van Roy further explores life contaminated by negativity and misguided beliefs fueled by topics such as violence, vengeance, pain and eventual death culminated from governmental greed and an ungodly existence. Regarded as among the premier practitioners in Techno/Industrial firepower, SC's music remains as thoughtful and forceful as ever.

A bold assertion is made from the opening onslaught for eight minutes of the pressure packed "Cause Of Death," documenting the clouded thoughts of a would-be suicide draped in dark aura and pounding bass; "Face Of Death" is a melodic portrait tying together blindness and death -- an energetic and animated piece drawn out by the "Blind Rage" mix that's at once soothing, uplifting and disturbing; "The Reformation" is shorter, slower, and equally heavy in lyricism and imagery, where an apparent question of cloning is laid out beneath a mechanized transience; ditto for "One Nation Under God" where a "New World Order" is defined by "Blood and disorder" for this spirited highly electric gem notable for its synthesized voice and verse, something that SC threads together deftly all throughout; "Evildoer" yet, with its tight, taut, and catchy hook, infused with a "We are the slaves in the land of the free" declaration of un-dependence that one can't help barking along to and later play again, emerges as the top two or three of this ten track outburst. "Plastik Christ" is just plain eerie.

When the smoke clears at the conclusion of this frenetic yet fluid presentation, it's clear Suicide Commando has not only retained its edge, but extended it with an unleashed rage and contempt for complacency. It's seen its fair share of action since its developmental stages in the late '80s and since, has continued to garner widespread attention for combining cutting edge instrumentation with critical observations and biting lyricism -- envision a cinematic Sci-Fi soundtrack shelled to shreds by an arsenal of deep thought and discharged anger. Musically speaking, (mutant-ly?), "Axis Of Evil" is another extreme outing for SC with enough punishing aggression and amperage to shake the earth loose from its own weight, designed to not only fire up the club crowd but invade the mind of the individual and stimulate the senses. Always a step ahead and look beyond that of most industry insiders, SC's newest is a masses gathering of the underground that offers no mercy, subtlety or sweet Pop excess, but does offer a revealing look into the gun barrel for the frail-minded followers of a dead generation.