Titanium Black
Bleed For You (Great Dane Records)
By: Vinnie Apicella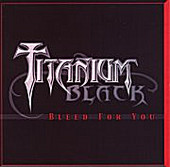 Titanium Black is a merging of classic and modern Metal designs that's actually believable for more than a song or two. Brandishing an retro credibility built on powerful riffs and crashing 4/4's to support operatic vocalizing, as well as veteran producer Michael "Double Trouble" Wagener, who's long list of mega-selling credits goes way back to the days of Ozzy, Motley, and Metallica, besides helping Accept and Raven make the major leap forward in the mid-'80s, "Bleed For You" establishes itself as money well spent to straighten the skin of Heavy Metal redundancy, old and new.

Dark opening moments on tunes like "Cracks Of Light," "Words," and "Quite A Machine" create a disturbing emotion before the songs break into stirring progressions of power and melody that's a decade and a half sweep through memories of 1987-style studs and leather in the vein of an Omen, Shok Paris or Jag Panzer. Yet there's a majestic nature to the songs, where on the one hand, we're lulled momentarily by the softer elements of "Perfect Love" or "Miles Away," perfect assertions that not all of Stryper and Styx's hard work went completely lost, while "Torn To Pieces" and "Spit You Out" are classically heavy moments in the finest "Streets"-era Savatage tradition or Crimson Glory. "Deconstruct" and "Bleed For You" are metallic and majestic examples of might and mental awareness employed throughout an album that's either been several years in the making, or at least sounds like it was.

Experienced Metal listeners will bask in the parallelism to their many favorites of the day, both commercial and extreme. While the Ozz-Fest crowd might be slow to embrace Titanium Black and its obvious titular implications, there's no escaping "Bleed For You" has a dramatic and dangerous enough feel that late model youth movements won't be completely detracted, and more so, considering there's much to do here with the slowly popularizing touch of bigger name players like Nickelback or Saliva, only on a more accentuated musical scale and surround sound in 5.1!

Terry Michael LeRoi's vocal performance is a definite carryover from the days when singer's did just that, however, besides the drumming, the rhythm section gets lost in the wild too often which results in songs weighted more so in melody and atmospherics and lacking a touch in the potency department. Still in all, considering the variety and vitality present in the fourteen track work here, a superior outing to the typically trashable titles mass marketed as "Metal" of the day. If Queensryche put out an album like this -- and this will additionally conjure images, if modest, of their better days -- instead of "Tribe," they might still have fans left who care a damn for what they've done since their "Empire" last stood.