Triumph
Live At The US Festival (TML Entertainment)
By: Vinnie Apicella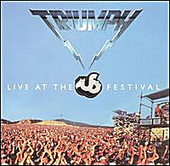 In an ironic twist of fate, renowned Canadian Hard Rock trio Triumph strides back a full twenty years to make their first live appearance in over ten-- Well not exactly. Triumph's "Live At The US Festival" does commemorate the 20 year anniversary of this massive Rock n' Roll spectacle in San Bernadino for Heavy Metal Sunday where a half million people bore witness to the world's heaviest and best. Even today, one can only imagine what it must have been like to attend a performance that not only included the likes of Van Halen, Scorpions, Ozzy, Judas Priest and Motley Crue; not to mention mega-selling newcomers Quiet Riot! And then Triumph, who'd previously only played to 50,000 an evening earlier sharing the stage with ZZTop and Sammy Hagar. What a year it was for Heavy Metal -- 1983 -- and for many, it was onwards and upwards for the rest of the decade.

Monsters Of Rock in the late '80s for Metal festivals was an impressive enough follow up, but few could claim the impact of US, besides the bloated numbers it boasted, the caliber of talent assembled was astounding, unblemished, and in their prime; hands down above and beyond anything else to date. It was a famous moment in time for the bands and their fans. Triumph was a full service favorite of the day. At that point, touring for "Never Surrender," they were the full package of virtuosic skill, showmanship, and stage presence. Triumph were perennial platinum and gold sellers who could write a fluid instrumental jam, or catchy, crowd pleasing favorite seamlessly and with the best of 'em. Brandishing such golden era anthems as "Allied Forces," "Never Surrender," "Magic Power," and "Fight The Good Fight," their appearance here couldn't have been more deserving or poignant. This live CD features eight Triumph classics, primal-sounding, powerful, and technically precise, including the aforementioned fist-pumpers while featuring the extended version of "Rock And Roll Machine" with smokin' mid-song solo from forever underrated vocalist/guitarist Rik Emmett, done to thunderous applause, and led in to "When The Lights Go Down," which were they actually to at the right moment, would've revealed yet another of the band's highlight trademarks which seemingly go unnoticed by today's standards. Triumph's phenomenal stage show saw them creating astral-like effects combined with darting light beams; like Pink Floyd with a piercing laser that was the perfect compliment to their "progressions of power" and fluidity in motion.

Few festivals could rival the US festival in size and scope while even fewer participants could hope to reach the level of achievement that Triumph did in the day, in terms of Hard Rock credibility and commercial appeal. Their biggest mainstream success was actually yet to come with records like "Thunder Seven," "Stages," and "Sport Of Kings" before the winds of change set in and helped force them to an untimely and ultimately fatal exit from the scene over a decade ago. But through the wonder of modern audio advances, fans can relive the energy and excitement of the US Festival, where a band like Triumph, known in their day to embrace technology, here receiving the same in kind, still lives on, in glorious 5.1 Surround Sound! Live, they've always sounded terrific; now they've never sounded better.