U.D.O.
Nailed To Metal: The Missing Tracks (AFM Records)
By: Vinnie Apicella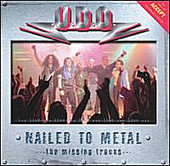 At first glance this looks like one of those quick, Walmart-only seasonal throw-ins that you'd find in the Greatest Hits racks of some long-bearded has been that hasn't for the last sixteen years. And its packaging indicates as much here. Yet how do tunes like "Metal Heart," "Fast As A Shark" and "Balls To The Wall"(!) end up as "Missing Tracks" from any previously released live record with the Udo stamp on it? Odd-- Nonetheless, "Nailed To Metal," packaging primitivism aside, is a staple of hard-hitting, classic Metal anthems that indeed were (mostly) cut back from the original 26-track "Live In Russia" release from last year planted here as another peg in the still growing catalog/belt of Mr. D and the band he's managed to maintain some three or four albums now; a feat not easily accomplished for any known German Metal group.

There's eleven tunes beginning with "Holy" and "Raiders Of Beyond" from the "Holy" album in 2000, and were there any distinguishable difference that might've existed between the classic Accept sound and the later U.D.O. material, it's completely wiped away here. "Metal Heart," which goes on somewhat unfettered by crowd noise -- still probably buzzing over the massive stack of Marshall-black d?cor onstage, until the mid-point hymnal -- "X-T-C," a surprising "2nd Phase" Accept cover from the well-received David Reece days, and "Fast As A Shark" are true indicators that Accept and U.D.O. music continue to live as one in a time when easily a decade ago, no one had a right to think either'd still be breathing. Kudos as well to Stefan Kaufmann, ex-drummer gone U.D.O. guitarrer and producer on the last several albums for not pissing away his integrity by not giving up the Metal standard and giving up the drum stool. The guy they got behind the kit now, Lorenzo Milani's got the mastery of moves that's ascended the atypical traditional Metal acts to the "Power" Metal style they enjoy today. "Fast As A Shark" with full-on U.D.O. shriek of terror, heads a mid list triumvirate of old "R&W" tunes!

The remaining few include the mundane "Thunder In The Tower" from the "Holy" album, and a surprising appearance of "Hard Attack," one of the heavier, memorable moments from the ill-conceived Accept "Predator" disc in '96. Here, an absolutely crushing live version. One thing about U.D.O. the band, he's got solid players who've got the classic sound down and do the backing vocals at least slightly better than the original Accept who'd at times make even Loudness sound phonetically adept! The last live track should surprise no one, including an extra four minutes of mid-song bullshit with band and fans bonding before going out in a bomb blast. The production's got just enough cracks in the armor to be believable and the song selection's a mix of mostly good; great where old Accept's concerned and a little poorer with the U.D.O stuff, doing only three tunes, two of which are rest home ready by comparison; and let's drop the sleepy drum solo which is fine for show goers but why here? Overall, "Nailed To Metal" is just that. U.D.O., the "true" 2nd phase of Accept really, they're still going strong, bangin' heads and breaking balls!