The Forces of Evil
Friend or Foe? (Jive Records)
By: Alex Steininger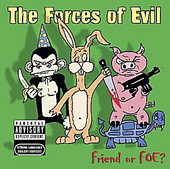 The Forces of Evil is fronted by Reel Big Fish's Aaron Barrett, and includes members of other indie-hot ska-pop bands, including Jeffries Fan Club. The result is not unlike those two bands -- playful, bouncy, bubbling ska-pop that makes you want to dance, rock out, puts a smile on your face, and generally just have a good time. Venting a bit and releasing some teen angst, Friend or Foe includes anthems such as "Angry Anthem", with the chorus screaming "fuck all you motherfuckers", "Go To Hell", another anti-social song, and "Worst Day", an in-your-face pop-punk song.

Whereas Reel Big Fish is more ska-pop and centered around the ska (most times), The Forces of Evil incorporate a lot more pop-punk into the mix, but it is still ska-pop, and good ska-pop at that. Barrett can't stray too far from home, but he's a good songwriter at what he knows, and Friend or Foe will excite any Reel Big Fish fan, or someone looking for some good pop-punk with some ska thrown in. I'll give it a B.