Pennywise
From The Ashes (Epitaph Records)
By: Vinnie Apicella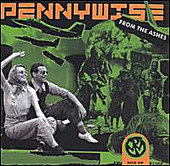 Right from the opening roll of "Now I Know," an urgent reminder that yesterday and today are incompatibly thoughtless bedfellows, only tomorrow matters. How often do you think of a Punk band and equate them with their level of playability? There's serious guitar playing going on here, stepping far enough away from the usual three-chord hack, and Byron McMackin's drumming is a constant four on the floor that slows up only long enough to let the next track play. Now I Know" and "God Save The USA" up front are enough to give you a nervous tick and permanent twitch.

Pennywise is like a Bad Religion, Rise Against hybrid that belies their So. Cal kick back heritage, channeling assorted shoulder chips into straight-shot Punk Rock with a flair for variety and velocity. Fifteen years, seven studio discs and another fuck finger for authority later, and there's no slow up in sight for these four guys. "From The Ashes" follows up their ballsy and brash 2001 release, "Land Of The Free," and it's tough to call between the two at first, even second listen. "Rise Up's" an anarchic anthem for the next generation of groundbreakers, while "Yesterdays" emerges amongst the more radio-friendly fare with singer Jim Lindberg pining over innocence lost over a three and a half minute hook! "From The Ashes" goes Mach-1 with melody, mindfulness and taut musicianship that are unmistakably Punk yet threateningly offensive to fast talking order takers of the big label, bloated budget variety.