Various Artists
Buddyhead Presents - Gimme Skelter (Buddyhead Records)
By: Alex Steininger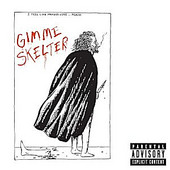 A rock 'n' roll compilation! Or, more adequately put, a rock 'n' roll story. Buddyhead's Gimme Skelter, with musical interludes by none other than the king of rock, Iggy Pop, not only includes some kick-ass rock bands (Mudhoney, Yeah Yeah Yeahs, Pleasure Forever, Primal Scream, Le Tigre, Wire, Cave In, Weezer, and the Icarus Line). But it also includes an interview between Nardwuar and Iggy Pop ("Nardwuar vs. Iggy Pop"). And a bonus track by the band Shat, "What the Fuck Do You Think Christina Aguilera is Doing Right Now?".

With lots of cool artwork and even some liner notes, the extensive booklet itself screams rock 'n' roll. Mixed with the music and complete presentation of the package, Buddyhead nails it on the head with Gimme Skelter, a terrific offering. Better than most compilations, and a good introduction to some rock acts you may not know. If you dig rock and want to add something to your collection, check it out. I'll give it a B.