Ballboy
A Guide for the Daylight Hours (Manifesto Records)
By: Alex Steininger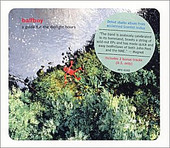 On the debut studio album from the acclaimed Scottish quartet Ballboy, the band lives up to the massive hype they've received from legendary tastemaker John Peel and England's most fashionable music magazine, NME.

A Guide for the Daylight Hours, first off, contains some of the best song titles found on any album. Songs like "I Wonder If You're Drunk Enough To Sleep With Me Tonight", "I Lost You, But I found Country Music", "Sex Is Boring", and "All the Records on the Radio Are Shite".

Second, the music is interesting, intriguing, to say the least. Centered around the delivery - the heavy accent and the humorous lyrics that are delivered in a dead pan, serious tone - and backed with a ragged, rough and tumble indie-rock centerpiece, the songs just float, the music hovering behind the vocals, sometimes guiding them, sometimes being guided.

You'll laugh the first few times you hear the record, then you'll begin to take it seriously and listen to it from a completely different point of view, and start taking other things, like the airy, free-flowing pop form the band builds the songs around, from the music.

It's a proper studio debut from a band that likes to have fun, but also knows when to settle down and write a serious song. I'll give it a B.