Jolie Holland
Catalpa (Anti Records)
By: Brian Barr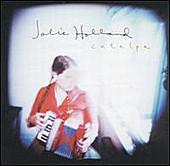 If you look at the cover of Jolie Holland's Catalpa enough times, it begins to unveil the very nature of the record. The image is washed-out and out-of-focus, recalling Dylan's Blonde On Blonde. But unlike Dylan's hawkish glare that suggested the intensity of the album's content, Holland's head is turned away and her face is nearly lost amid a white blur, ghostlike.

Everything about this record is steeped in Americana, namely that of the American south; and rightly so considering Holland's Houston upbringing and romantic bumming between Texas and Louisiana. With this record as the result, one can imagine the aspiring Holland followed in the well-trod footsteps of the many before her, singing and strumming to anyone who would listen. During these formative, rambling years she probably immersed herself in the rural music of that region; the blues, the jazz, the ragtime and the old-time. She probably met fellow ditch-dwelling poets and players and artistically absorbed all they had to give. She traveled West, then Northwest to Vancouver to help form the Be Good Tanyas with old friend Samantha Parton. And just before the release of their first record, she split, heading down the coast to Frisco where she now resides and cut the songs that would become her first release.

With first blush, the songs are old-timey until you tune into Holland's curious phrasing and realize she is rhyming the words "psychedelic presence" with "bioluminescence" on the first track "Alley Flowers." Something is happening here. It seems that with one song she has officially bridged a gap between old-time and new-time.

Her spirited rendition of "Black Hand Blues" is the closest thing to rural blues a white woman has ever recorded. "I Wanna Die" finds her pining for the South, and on "Wandering Angus" she lays down a warbling, psyched-out musical backdrop to a Yeats poem. She also gets mildly topical, commenting on urban poverty on "Periphery Waltz." And every bit of it is successful.

The fact that Catalpa appeared so late in the year may have a lot to do with its absence from the Americana Top 20 lists of 2003. Either that or the fact that absolutely no part of this record could ever find its way into the mainstream conscience. However, this is not a bad thing.

This batch of songs was never meant for mass consumption. These are demos secretly recorded in a living room for an accompanist to learn. The performances are unhurried, the vocals hushed and the production almost non-existent (her throat-clearing is audible twice). Catalpa's magic exists because no one was looking.

Holland is quick to disclaim that this is not her official first release, that this not the best of her abilities. She is already working on a more fleshed-out record with her backing band.

Her traveling past, combined with the record's cover, speaks volumes on where she is headed. It's not clear if even she knows. But with this rare debut, it seems fans could spend the rest of their lives trying to keep on track with Holland's progression.