Kill Hannah
For Never & Ever (Atlantic Records)
By: Alex Steininger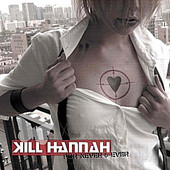 On their second full-length, and first for a major, the Chicago-based act Kill Hannah deliver a crunchy, infectious album. For Never & Ever glistens with modern rock prowess, the crispy drums echoing in your head while the powerful bass puts a thump into your heart. All while the slick guitars slice through the song with a lot of addictive hooks, carrying the unforgettable melodies. Then enters the clean-cut vocals, and the modern rock formula is complete.

For Never & Ever isn't a bad record. It's too well produced, too well put together, and too hook-driven to be bad. However, the songs are so overpowering, so well controlled, they lose their identity, allowing you to sing along with them without even realizing who the band is (i.e. they sound like everything else on the radio).

But, I'm sure numerous songs on this album will be hits and Kill Hannah will spawn a platinum record in no time. The songs have that feel. I'll give it a C+.