Trachtenburg Family Slideshow Players
Vintage Slide Collections from Seattle, Volume 1 (Star Time International)
By: Alex Steininger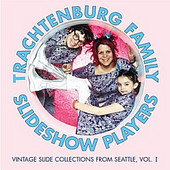 Trachtenburg Family Slideshow Players' Vintage Slide Collections from Seattle, Volume 1, their debut full-length, establishs the band as a solid, fun-loving recording group, after being widely hailed as an entertaining, memorizing live act.

Collecting slides from garage sales and then writing songs about them, the Trachtenburg's - father Jason (piano/guitar/vocals), mother (slides and fashion design), and daughter Rachel (drums/vocals) - have amassed a sizeable following in many markets, selling out venues and playing to everyone from young children to grandparents, all of whom love the band's comical, fun-loving pop ditties put to a slide show.

With the CD you lose the slide show (though the booklet tries to capture this, but nothing can take the place of the live show's slideshow), forcing you to listen to the music and paying attention to the vivid storytelling, and developing your own visuals in your head.

A new dimension forms, and you, the listener, better appreciate the bouncy, joyous, care-free quirky pop sounds, especially the vocal interplay between the father and his daughter, as they have the time of their lives creating something memorable for themselves (and the listener) and something entertaining that puts a smile on anyone's face who listens. It's still about the story, it's still about the visuals, and the music - even just the audio - still carries the message loud and clear. I'll give it an A.