Two Loons for Tea
Looking for Landmarks (Sarathan Records)
By: Alex Steininger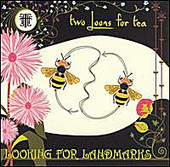 Consisting of singer Sarah Scott and instrumentalist Jonathan Kochmer. The Seattle-based duo Two Loons for Tea's sophomore full-length, Looking for Landmarks, finds the band creating the soundtrack to your late, rainy nights, the nights spent looking out the window, watching the rain come down as you gently settle into a cozy couch and begin to wander.

Scott's vocals are delicate and soulful, while the music embraces both adult alternative and ambient pop. Swimming in dark, moody textures and subtle, but sparkling guitars, Two Loons for Tea lead you into a dimly lit room and somehow make it feel inviting, friendly. That's the power of their music; it is moving and comforting, despite its intriguing demeanor. I'll give it a B.