INTERVIEW: Army of Ponch
European Vacation -- Chaotischen Melodischen Schreien (No Idea Records)
By: Marika Ley


"I am anticipating a lot of snow and fear for my life--"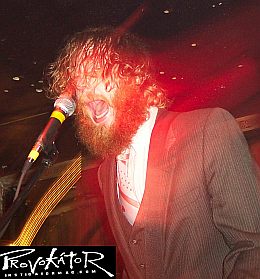 Jack Bailey (guitar/vocals formally of Blacktop Cadence, referring to going over on their first European tour), receives a curious look; why should he fear for his life? Recognizing a perplexed look, he clarifies, "--the winter and all."
Ah, right: snow and cold doesn't usually sit well with a Southern boy.
Jack's face will be fine though as there is a small mammal hugging his head; a beard he affectionately uses as a 'girl repellent'.
It started as a small idea (and probably a need to vent energy); two albums and three years later it has snowballed into a European tour with punk/indie label No Idea (Gainesville, Florida) and The Company with the Golden Arm (Hamburg, Germany).
The members of Army of Ponch (home states ranging from Maryland, and Virginia to Costa Rica converging in Florida, go figure) have grown together and the music emoted reflects this evolution from a melodic voice punctuated with stout screams to the movement of melodic guitar snaking with a deep chunk winding bass culminating into chaotischer melodischer Schrei-core. "We've learned how (one) another plays, so it's evolved greatly. We try to keep each other on our toes so we don't end up with a certain sound. If we feel like writing a thrash song we do it, if we feel like writing a mellow song we do that. We never think, 'oh that doesn't sound like an Army of Ponch song' because we haven't really developed a trademark."
Army of Ponch's songs tend to be Gainesville environment oriented in so far as topics; friends, enemies, alcohol, music and dead beat dads 'the usual'.
"--keeping it up with our guts and our pockets empty we'll make it the lows get low we all know but there will be highs that remind us why we get up in the afternoon.."
The lyrics record a sentiment I could never get tired of. One that I've learned well, living in Gainesville. Army Of Ponch is pure Gainesville, skinny, pale, energetic only after dark. Emotions that are easily accessible after a few libations, angry but not quite hatred; stained with a definite distaste for the ordinary (and a secret longing for something reliable), define the parameters of their musical message, with heaps of sincerity.
"This could take the weight of all of us this could take the weight of all of us this could take the weight of all of us."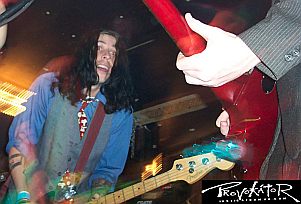 Chants from a unity of despair that sends arms straight up in the air as if looking for a lifeline, or waving 'YES' out of recognition. Kids and a few elders of the hardcore persuasion are swirling in a mass of hands and sweat, not throwing fists, not looking to cause damage or pain, united in their weariness of being put through the ringer musically and emotionally.
Audio anger stepping out of complacency, they remind you (as well as themselves, probably every time they play live) that complacency kills. It is one of the more optimistic messages that I've heard.
There is a thread of anger though that courses through their songs and live show.
Isn't there?
Jack discerns a difference, "Musically, yes. Absolutely. Lyrically? Not necessarily. People hear screaming, and compare it to other screaming. While one person is screaming about the government another person might be screaming about his girlfriend, or boyfriend or how much they hate a certain kind of person, or how much they like a person, place or idea. Same outlet- different influence."
I had seen one of the first shows Army of Ponch played over three years ago at the Civic Media Center in Gainesville. Asking about the interpersonal change--
"We're evil now." Danny Welsh the redhead spectacled drummer of enormous energy satirizes, "way more political and--."
"I think the people that might have been excited for us at the CMC show might have given up on us by now." Jack cajoles.
"So we have to attract younger, hotter and funner chicks!" A non-descript voice comically asserts. I think it might have been Gui (bass), the funky Costa Rican with 'sleepy hollow' hair. "You know that magazine Over Forty?" Danny continues, "That was the clientele of Army of Ponch back then (three years prior)- now it's barely legal."
"As we get older the crowd gets younger.' Jack (26 yrs.) smiles, "I meant as time passes, not as we get old--"
What are you expecting in Europe, Gui?
"Cold, wet--rock, and try not to get so drunk--this time." Gui Amador, colorfully tattooed, sways steadying himself with a long haired pretty thing.
"Geis has been there before--"Jack tosses the query to Ryan Geis (guitar).
"Really warm beer, like room temperature--" Geis reminisces.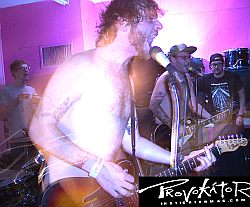 "Which will be cold- if it's room temperature--that will be pretty damn cold, so it'll work out." Jack interjects his wooly hat wearing ever loving optimism. It's 35 degrees (Fahrenheit) in Florida when we talked, which is 'damn cold' in these parts. Europe in Febuary is a whole different stretch of cold, I believe that wooly hat will take on a whole other level of importance there.
"--Red Light districts--", Geis continues.
"Hash--!" Gui and Jack both enthusiastically add.
"Hash, definitely hash." Geis assures.
There is of love of touring amongst this band and an obvious wanton, not need- but lust for music. Enough so that when not on the road with Army they moonlight with projects like Savage Brewtality and Rehasher (look that one up and play 'spot the celebrity').
As of this writing Army of Ponch emailed me from Europe; enjoying the "hospitality, how everyone gets taken care of. The language barrier is a bit strange; sometimes it feels like we are being made fun of."
No one is making fun of you guys, it's just an unfamiliar slant on the familiar--and if they are making 'fun of' you; you will be the ones to get that last laugh.
"Loose lips burn bridges but ink speaks in tongues and it turns out the feedback is beautiful."
Note: All italicised lyrics from So Many You Could Never Win available on No Idea Records.