Junior Boys
Last Exit (Kin)
By: Bruce Mowat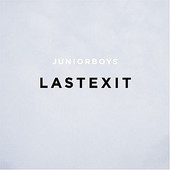 I am a veritable Johnny come lately on this item, but I have an excuse: whenever an electronica act breaks, it usually happens like this. The act forms in studio five years ago, in 1999. They don't play out live, so nobody notices.

The act releases a couple of EPs, which garner critical attention in the electro-specialist/college boy rags.

Act releases full-length CD overseas, and service it to a select few North American writers This, in turn, is picked up by the cannier news-hounds in the big centres, which amplify said buzz to a dull roar. Act gets North American release on strength of buzz.

I know the drill quite well, done it myself! And so has Manitoba, who has done re-mixes for these Hamilton lads. The question: is the hype on the Junior Boys warranted?

I listened to Last Exit, and here's what the e-Mole lab came up with.

If you consolidate three or four different channels in the 1,000 channel universe, someone somewhere, is going to call you a genius. The Junior Boys' trick: mix equal parts '80s synth-pop, moderne R&B, and avant-tinkering, broadly hint at a classic pop sensibility to get old farts like myself interested (say Brian Wilson! Look at the birdie!) .

Consolidators invariably get compared to the Beatles, who did analogous moves in their hey!day (mix Motown, rockabilly, country harmonies, and tin Pan Alley et voila!).

Therefore I predict: the J.B's. are gonna be H-U-G-E! For at least the Warholian prescribed time.

Do I respect the Junior Boys? Yes. Does this mean I like their music? No, although Matt Didemus is a swell person. To be honest, I fell asleep 2/3rds of the way through it. I guess I'm just not sensitive enough.

If anyone on this list wants my generic copy of the CD (no sleeve provided, sorry) write me.