UFO
You Are Here (SPV Records)
By: Vinnie Apicella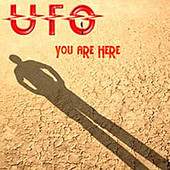 UFO's millionth record finds them here-- right back where they started. In truth, they never really left, some thirty years after they began. And remarkably so, considering the sun rarely shines on long gone '70s bands with ill-conceived '80s comebacks, log jam line up changes and overseas-only tour stops. Ah, but UFO, with or without Mr. Schenker, is a plotline of perseverance among their peers, still surviving in spite of perceived outdatedness and photogenic deficiencies.

You Are Here features a dual infusion of instrumental talent by way of guitar-shredder, Vinnie Moore, and skinsman Jason Bonham, both of whom ignite the charge that carries this album, for the most part, past the paternally correct patterns of playing style generally reserved for one trick ponies of the jam band generation. The big question, can the fretwork of Moore make fans forget Schenker? In truth, does it really matter anymore? Michael's work with UFO is certainly the stuff of legend, but his on again off again personality and perceived selfishness takes away from the predominant UFO element -- the aura the band produced more often than not. It was never about one or another musician, and it's not necessarily the case here, but the contributions of Moore and Bonham certainly give this one some extra legs.

The biggest surprise could be Phil Mogg's potent delivery on the vocals, vehemently delivering his outerworldly poeticism with a zeal few could've expected. Of the twelve tracks, there's plenty of age-old UFO-style ballad and Blues Rock including several highlights grounded by the occasional dead weight. The opening stomp of "When The Daylight Goes To Town" rides a "Rock In A Hard Place" riff in becoming one of the more driven tracks the further we fly; "Black Cold Coffee" is a terrestrial jam that feature's Moore's dexterous runs around the fretboard for one of the band's most eager productions, narrated within a Bonnie & Clyde type storyline that's one part drama, another hallucinogenic Mogg-world ramble -- tremendous on all fronts. "The Wild One" is beefed up and groovier in the vein of AC/DC with a few more scale runs than string bends, while "Give It Up" is catchy but eventual heard it all before filler; "Slipping Away" is a slip up in spite of its acoustic/electric multi-tracking dress and go nowhere plodding, while "The Spark That Is Us" is classic UFO, sensitized and ready for romance; a quality that's remained a trademark since day one.

Noticeably withdrawn are Paul Raymond's keyboards, usually responsible for the ethereal essence that's earmarked many a classic record, here lurking in the background, barely audible save for an occasional pre or post-solo appearance -- more compliment than character in any event. However, what the album lacks in color, it gains in mass, designed and delivered with a density that belies their formerly flighty persona. The album should have ended on track ten, that being "Jello Man," among their more edgy, if not energetic tracks, instead of tacking on two overdrawn weary travelers with tired choruses and clunky production, though "Swallow" the closer, upon sixth listen becomes quite catchy and anthemic.

With subtle variants, noticeable only in that UFO's classic Rock style is so well embedded in the minds of followers, You Are Here is an admirable offering that's got an air of instrumental groove with a heavy edge, not to be confused with any among the old Schenker-bred standards like "Phenomenon" or "Lights Out," of course but it's a better than decent album that states its case in simpler terms only minus, and to its own detriment, the degree of electricity and atmosphere that was synonymous with the listening journey since all the way back to their first sighting.