The Talk
It's Like Magic In Reverse (Morisen Records)
By: Alex Steininger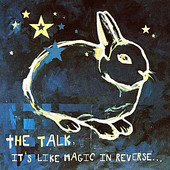 Recorded and mixed by Mike Mogis, the man behind the Saddle Creek (aka Omaha) music scene, The Talk's It's Like Magic In Reverse automatically earns cool points with hipsters worldwide. But, does It's Like Magic In Reverse deliver on the hype, if only the hype created by Mogis' involvement? In one word: yes.

It's Like Magic In Reverse is a slab of guitar-based indie-rock, propulsive and energetic, straight-to-the-gut, but laced with enough melody to keep it from stagnating. Here is a band that can play to rock 'n' rollers, punk kids, and the indie hipsters, while all are in the same audience, too, without disappointing any of them.

They have the looks, the chops, the style, and the cred. And now they have the album in It's Like Magic In Reverse that will make everyone turn their head and go, "Damn, here's a rock 'n' roll band that plays loud and proud, but doesn't leave anything out in the process". And they'd be right. I'll give it a B+.