Geno Washington & The Blues ?uestion
What's In The Pot (Music Video Distributors)
By: Alex Steininger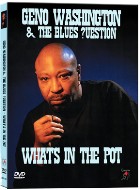 Legendary soul singer Geno Washington, arguably Europe's most notable soul musician (though he was born in Evansville, Indiana and didn't visit Europe until he was a member of the American Armed Forces, where he was stationed, and never left) releases his first DVD, What's In The Pot.

What's In The Pot features a fifty-minute set from the musician and his band, The Blues ?uestion, as well as a biography and a discography in the extras category.

The only disappointing thing about this DVD, considering Washington's tremendous history, is the lack of extras, and the fact that the set is only fifty minutes, encompassing ten songs. It seems there could have been a lot more here, especially considering Washington has so much more to give.

But, for what it is, it is a fine presentation of one of the soul legends, and its strengths often make up for what is lacking. I'll give it a B-.