South Park
Season 4 (Comedy Central)
By: Alex Steininger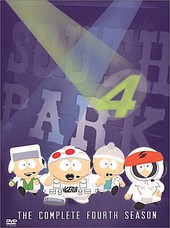 Ah! Welcome to the 4th grade. It is in season 4 we see our favorite boys from South Park graduate to the fourth season, and try to create a time machine to go back to the third grade. Mr. Garrison also admits he's gay in the fourth season.

Despite all this, it is the debut of the loveable Timmy character that makes the fourth season so much fun. Not to mention Cartman's pursuit of making ten million dollars, his motivation behind running his own church and starting the boy band, Fingerbang. The latter happened in "Something You Can Do With Your Finger", where we learn Stan's dad used to be in a boy band, made millions of dollars, and watched it all get taken away from him when the band turned 19 - making them too old for a boy band.

The memories. The laughs. Season four is a must. And, sure, like any other South Park DVD, you get commentary from Trey Parker and Matt Stone, which never gets old. But even without any special features, the show stands on its own.

I'll give it an A.