Strangers with Candy
Season 3 (Comedy Central)
By: Alex Steininger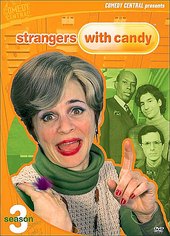 Thank goodness they're making a movie about Strangers with Candy. Our favorite high school dropout, Jerri Blank's third, and final season, left us in the lurch. There was so much more for her to learn, and thus us learn from her. So many more mishaps, adventures, and laughs to be had. But, alas, the ratings weren't there and the now cult classic was cut.

DVDs are our friends, and our saving grace, though.

Comedy Central's recent release of Strangers with Candy: Volume 3 follows the release of seasons one and two. Closing out the series, we watch Jerri battle with a STD, performance-enhancing drugs, and watch as Flat Point High is turned into a strip mall.

Fact of the day: Strangers with Candy is the only show to ever have the lead character ask someone to pee on her. To commemorate this fact, the show ends with footage of the school and the marquee outside, which reads "pee on me".

I, for one, can't wait for the movie. In the mean time, season three was just what I needed. Having never seen the show when it originally aired, I played seasons one and two to death and was itching for season three.

Including blooper reels, a dance sequence compilation, and animated storyboards, there are enough extra jewels here to give you one more insight into this cutting edge after school mock comedy. I'll give it an A.