Dr. Theopolis
Astronomical (Sissy Conspiracy)
By: Alex Steininger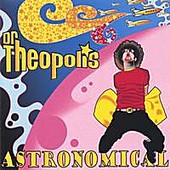 Ah! Portland, Oregon's criminally underrated funk-hip-hop-soul eight-piece band Dr. Theopolis are back with their second full-length, Astronomical. Filled with fourteen phat cuts of humor, good times, and plenty of funk to shake your ass to, Dr. Theopolis continues delivering the soundtrack to any party worth crashing.

Quite simply, if the act of sex was an album, it would be Astronomical.

However, Dr. Theopolis isn't all about partying. They are also about the music, as "Hit 'Em Where Their Ears Are At" proves, finding the group taking a stab at the music industry with their trademark tongue-in-cheek touch:

"Remember when single didn't start with a 'J' and you didn't have to suck to get your record some play? And I do mean blow, although you suck either way. And I don't give a fuck what your labels say. 'Cause they can be wrong, and they often are. Stick their hands up your butts and they'll make you a star, you puppet", raps main M.C., E.Z. Money.

Wrapped around some slick funk grooves, with E.Z. rapping on top, the song soon turns into a golden era soul number, a stylish, lavish sound beautifully flowing out of your speakers.

Then the second verse hits and the other M.C., Cecil B. Pimpington comes and takes another shot at the industry:

"Video didn't kill the radio star. He's still alive, but he's living out of his car... In this industry, image is everything. Where's all the big, fat ladies who can actually sing? Working at Burger King, paying their way through college. Learning their craft and getting music knowledge just to get shut down by the music biz, wind up teaching tone-deaf chicks with fake tits. Time for ugly fuckers who can actually play to bring the wax back and show the people the way".

Then the chorus hits again and you're overcome with pure soul so true-to-form it's hard to believe it's from a bunch of white kids having fun. But, it is, and any non-delivers can put the album in and enjoy, or jump around between tracks and get the same effect - a record that is as much humor as it is fun, and classic sound as it is modern.

The title track kicks off the album with some rockin' funk, the chorus ringing with the words, "If you feel like you want to dance, pretty momma take your tee-shirt off", setting the stage for the endless party.

"Most Definitely" hits you next, incorporating more soul and hip-hop, and less rock, while E.Z. Money and Cecil B. Pimpington trade off rhymes, making you laugh as you dance your ass off.

Dropping the funk and offering a few interludes, "Whale Shirt", "Interlude", and "Ol' Timey Prospector" once again find Mr. Fabulous, the older, wiser mack trying to school his younger, more naive (but equally funny) pupil, Billy.

As they talk back and forth, many laughs are to be had, offering straight-up comedy tracks on the already comedic-laden album, giving you a chance to catch your breath before jumping back onto the dance floor when the funk hits.

Long a live staple, "Evil Genius" finally sees the light of day on Astronomical, a slow dance number that will give you chance to get close before the hook hits and the pop-rock-meets-funk chorus kidnaps your mouth and finds you singing along.

Stretching their wings a bit, the spoken word horror humor of "The Price Is Right" sets up "Spooky", the official funk song of Halloween, a devilishly, eerie-laced funk song that, once the vocals hit will find you moving from spooked to busting up laughing.

Though their debut, The Voice of the Future is hard to top, Dr. Theopolis manages to do so, offering up a comedic hook- and groove-laden funk-hop record that, more so than last time, incorporates soul into the already slick, precise sound. Well produced, radio-ready, and undeniably great to dance to, Dr. Theopolis is the party, and when they're at the party or playing on the stereo at the party, everything is Astronomical. I'll give it an A+.