Dead Boys
Live at CBGB's 1977 (Music Video Distributors)
By: Vinnie Apicella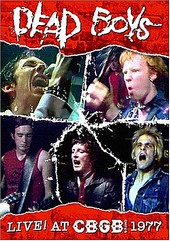 Who might've imagined it twenty-seven years ago? A little known punk group from Cleveland barely into their early 20s who failed to survive the '70s could create much of an impact on the scene up till now? Not that there's that much to point to as far as a legacy left behind. That's what makes digging up this live DVD so phenomenal. Time indeed ran out on the band a long time ago. CBGB's, the acclaimed NYC birthplace for the burgeoning underground scene, certainly fared much better than the Dead Boys, who sorrowfully became a casualty of substance abuse and self-destruction only three years and two albums after they started. So save for those few old enough to remember or lucky enough to have been there, all we have were those couple of records, subsequent stories, and an ongoing legacy that lives in the many Punk Rock power chords that followed. But now this--

In 1977 the Dead Boys were making waves for their loud music and brash behavior. They were every bit the stateside equal for angry verbiage, onstage and in-the-news histrionics as English upstarts like The Damned, Clash, and Sex Pistols. The Dead Boys emerged at a time when American Punk, the New York scene in particular, was still getting its wings and branching out from the blueprint formed from Iggy and The Stooges and New York Dolls, and soon after, The Ramones where concurrently CBGB's and NY's Lower East Side came alive with what would emerge as a musical and cultural phenomenon.

That this DVD could have resurfaced all these years later and in reasonably good enough condition so as to be restored in all its beer-soaked, brazen glory is miraculous. We can thank Rod Swenson, the original director back then, and amongst those nostalgic contributors to this package placing a new perspective overall. Not only will Live at CBGB's 1977 appeal to longtime Punk fans, this will unearth a whole new generation of followers that want to know "what the real deal was about."

Upon "entering" the club, we're led from behind the stage toward the front row of the dark, smoky cellar-like environment as "the incredible, phenomenal Dead Boys!" from Cleveland, Ohio are announced and the grinding guitar riffs from "Sonic Reducer" begin reducing the place to audible rubble. From the onset the band was loud, noisy and in the face of the front row of spectators who were standing, shouting, snapping pics-- and it was the 'Boys electrifying lead singer, Stiv Bators, that was the center of attention centering a tuna can-sized stage, animated and with an Iggy-like shuffle and strut, on the floor, or in the crowd fighting for every inch. The band was touring for their now classic "Young Loud and Snotty" release; a record that showed so much promise and deservedly becoming an American Punk staple, if several years later.

Much is made of Swenson's three-camera color shoot of this show, which lasted for ten songs and some forty minutes, and only upon viewing is this really appreciated for what it was and what it means today. The show is generally shot from three o' clock facing the stage with plenty of frame-ins to the frantic lead singer, a few band member close-ups, and cut-aways. We see clearly the onlookers at the front, surprisingly well behaved and probably in awe at what they'd been privileged enough to witness.

Bators, clad in a sportcoat, suit pants and sneakers, lost the coat by the end of song one, and soon after revealed slices of lunchmeat stuck to his chest which he proceeded to detach, stuff with snot, fold over and down to the apparent delight of the crowd -- effectively shedding new light about "getting caught with the meat in your mouth."

"Sonic Reducer," since covered by bands like Overkill and Pearl Jam, led to "All This and More," then "Not Anymore" and "Revenge," though there's no rationale as to why he couldn't wait till "I Need Lunch" to satisfy his appetite, but the band played on and on, stopping momentarily only to announce "Ain't Nothin' to Do" and then back at it non-stop. Bators was recklessly ranting, screaming, and pogo-ing front and back and across the stage like some hyperactive kid fit to be tied and driven to the laugh factory than fronting a Punk group in a dirty club and coaxing a beer swilling crowd to jump and shout in kind.

"High Tension Wire" and a cover of The Stooges' "Search and Destroy," all age-old classic which oddly enough was only four years old at that time, were show highlights before Bators and the band did a half-hearted Who impression of destroying their instruments.

This DVD reeks of authenticity and places the viewer right there in the center of it all. The recording quality held up surprisingly well and the audio is wrapped in the latest 5.1 surround for that "being there" feel. Besides this, the DVD extras add to its magnificence. Quotable interviews with CBGB's founding father Hilly Kristal, Swenson and Dead Boys' guitarist Cheetah Chrome, reveal welcome insights into the band and how Joey Ramone first discovered them.

Other bonus features include the post-show interview with the band itself, the original Dead Boys' promotional clip, and some freakish lounge act called Steel Tips where a black-bearded biker-like singer blows off firecrackers in his shirt, make this a must-have package worth the price of admission ten times over. Not only is this a classic concert, it captures an incredible moment in time that many thought never did or could exist. Live at CBGB's 1977 places in perspective the short life of the young and loud upstart snots that gave their all, didn't give a shit, and revisits an unforeseen moment in time when they could have indeed be considered one of the greatest Rock bands the world had never known.