Slayer
Still Reigning (Universal Music Group)
By: Vinnie Apicella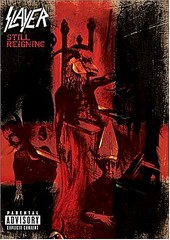 Few bands, let alone those in the "extreme" music scene, can boast the kind of stability and unconditional support that Slayer has achieved in their twenty year history. Those who have managed to stay together in the first place without succumbing to the temptations of life on the road and the various forms of intoxicants and internal turmoil that threaten their existence are few and far between. Slayer has not only accomplished this, but continues to raise the bar for others to follow.

Their influence on countless others that have followed is profound; they simply know no equal. From the Sabbath-inspired grind, blinding rhythmic intensity, and sheer speed, no one sounds like Slayer. It's been that way since the beginning, when in the early '80s, with pioneering records like Show No Mercy and Hell Awaits, combining dark content with brutal aggression, they set an industry standard for the burgeoning Thrash scene. Slayer designed the template for others to follow, yet no one's delivered as reliably or consistently as the genuine article, who continues to awe and impress their original followers while recruiting new legions that accept and welcome them as the standard bearers.

When Reign in Blood first arrived in 1986 there was little doubt of its ability to evolve into an eventual classic of the genre, much like AC/DC's Back in Black and Iron Maiden's Number of the Beast were before them in their respective fields. Reign in Blood took the band's music to another level of renown, becoming their first record for a major label, and garnering the support of respected producer Rick Rubin. 18 years later, Slayer revisits their crowning achievement by recreating the Reign in Blood experience on the stage and video screen, performing the entire set in its entirety.

Still Reigning is the band's second DVD release, following 2003's Soundtrack to the Apocalypse and offers fans a broad and in-depth perspective of performance footage by what many consider the best live band ever. Slayer is further set apart by many of their era by the fact that they're still one of the few bands that does not need to revisit past glories to salvage an unsettled career to save an aging and indifferent fan base. Anyone who's witnessed their live show can attest to this. They continue to grow stronger, their support more loyal than ever. But what Still Reigning does is prove you can go home again, and offer a glimpse to the younger followers as well of the magnitude of this glorious moment in time.

Still Reigning preceded the band's successful headlining tour of the Jagermeister Music Festival, and captures Slayer in their purest form, uncut and deafeningly loud. Fans receive unfettered access and a multitude of viewpoints that spin off from the panoramic, to eye-burning flashes of each member's menacing and methodical handiwork. Technological advances being what they are, live audio and video is phenomenally superior to anything produced even ten years ago let alone the nearly 20 since the band might have performed most, if not all of this album live. Viewers are treated to every conceivable scene from Araya's otherwise indecipherable screams to Henneman and King's lead guitar riffing, to drummer Dave Lombardo's back as he mercilessly pounds the skins.

Scenes shift quickly first capturing the energy from the crimson lit stage, then cutting away to the frenzied crowd, a sea of raise fists and flying feet, otherwise bathed in darkness save for the occasional spotlight flash. While there is no substitute for seeing Slayer live, Still Reigning provides insider access to what would otherwise be unobtainable scenes that dart through and hover above the barricades and security, plus that all-important ability to adjust the volume if things get a little too tense; it truly is the next best thing to being there.

A highlight of Still Reigning has the band getting doused by their "Wall of Blood" creation at the introduction and closing of their acclaimed "Raining Blood" song that concludes the album; an effect we learn later the band wanted to incorporate much earlier in the day but could not due to limited resources.

Still Reigning, besides spotlighting the blissful blur that was Reign in Blood, flawlessly executed as expected, contains DVD extras that allow us to climb into the collective heads of the band to hear how they started, what the original release signifies, developing the Slayer "sound," and the making of Still Reigning. The DVD also includes bonus tracks from various live shows spotlighting other classic material like "War Ensemble," "Hallowed Point," "Mandatory Suicide," and "South of Heaven."

Still Reigning is literally and figuratively the perfect title for this DVD, first documenting the events surrounding the creation of an extreme Metal titan, and to the degree which their influence continues to excel and exceed the expectations of their many fans and worthy peers.