3rd Rock from the Sun
Season One (Anchor Bay Entertainment)
By: Alex Steininger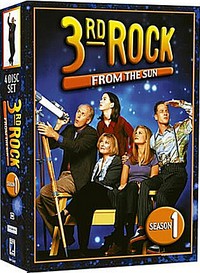 One of the hits of NBC's "Must See TV", 3rd Rock from the Sun was a left-field success, with its witty take on aliens adapting to life on earth, feeling human emotions, and trying to make sense out of the chaos of our world. All with believable characters, strong writing, and plenty of laughs.

Star John Lithgow made the show what it is, playing High Commander/Dr. Dick Solomon. Along with his supporting cast, all of who have interviews as extras on the DVD, the show never had a dull moment in its six-year run.

Now the first season is available on DVD and, though not the show's strongest season, it sets up the characters well and gives you the much-needed background information to enjoy the whole series.

With a 16-page collectible booklet, a DVD-ROM, and, besides the interviews, extras such as TV spots and highlights, Anchor Bay Entertainment has done a great job of packaging the first season. I'll give it an A-.