The Daily Show with Jon Stewart
INDecision 2004 (Comedy Central)
By: Alex Steininger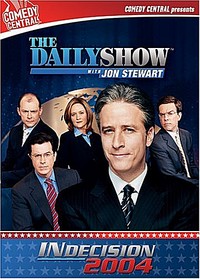 Sometimes laughter is the best medicine.

If you were as depressed about the election outcome as I, and many others were, than The Daily Show with Jon Stewart's INDecision 2004 will help you laugh about it - making the next four years more tolerable.

Including the "Election Night '04: Prelude to a Recount", and convention coverage ("Democratic National Convention: Race from the White House" and "Republican National Convention: Target Net York"). As well as an introduction by the smartest comedian alive, Jon Stewart himself, and correspondents Rob Corddry, Ed Helms, Samantha Bee, and Stephen Colbert giving their gut-busting slant on the impending results of the election, here is a DVD that is dated but timeless.

Now, I missed most of the INDecision 2004 coverage when it originally aired, as I went to a friend's house to wait for the election results, and they didn't have Comedy Central! So, for me, I was quite happy to watch this DVD again and again and laugh my ass off at it, knowing the outcome, and realizing all of this is funny because it's true.

Even in ten, twenty, forty years, this most controversial election will still be talked about and thus this DVD and its humor will still be valid.

The Daily Show with Jon Stewart is one of the funniest, most ingenious shows ever and Jon Stewart is the perfect leader of it, his humor smart, witty, and biting.

Fans of Bush will even find material to laugh at here, as nobody is spared at the expensive of humor.

The election is done, Bush is back in the White House, but that doesn't mean you can't laugh at all the absurdities. I'll give this an A+.