Renegade
Season One (Anchor Bay Entertainment)
By: Alex Steininger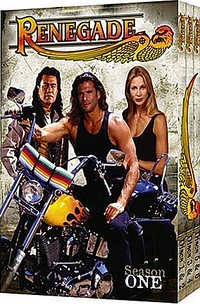 "He was a cop, and a good one. But he committed the ultimate sin and testified against other cops gone bad. Cops that tried to kill him but got the woman he loved instead. Framed for murder, he now prowls the badlands. An outlaw hunting outlaws; a bounty hunter; a Renegade".

That's how each episode began throughout the duration of the show's airing. It pretty much sums up the premise of the show. Reno Raines (Lorenzo Lamas) was a Bay City (made up California city) cop who was framed for murder when he learned too much about other cops that had gone crooked.

A fugitive on the run, he ends up working for bounty hunter Bobby Sixkiller and his sister, Cheyenne, the two employees of Sixkiller Enterprise, the bounty hunters hired by Dutch Dixon (the leader of the crooked cops) to catch Raines. And when they do, Raines convinces him of his innocence and agrees to work for him.

All the first season's 22-episodes and interviews with all the stars of the show make this DVD a hit. One of the best action shows around, it showed its dominance by lasting five seasons in syndication before ending its run. I'll give it an A-.