Turbonegro
The ResErection DVD (Music Video Distributors)
By: Vinnie Apicella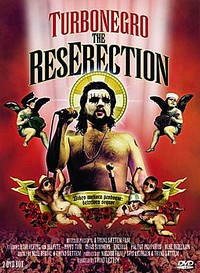 The measure of a truly great band cannot be simply calculated in album sales or sell-out shows. And in fact Turbonegro's had the good fortune to experience both, but it was during their absence, which began in 1998 following their benchmark Apocalypse Dudes release and concluded four years later, that the band's popularity rose to the ranks of legendary status. And so the world stage was set for their comeback, in full view of thousands of screaming fans who got their own views of bare asses, caked faces and cracked smiles. The band, self-proclaimed "Death Punks," covered in full stone-washed splendor star in this memorably splashy rockumentary that leads viewers in and out of the madness of one of music's most manic if misinterpreted cast of outcasts this side of the fishing village outside Oslo. They did, after all, discount the potential name of "Nazipenis" in favor of Turbonegro because it would draw less attention but attract more major label interest.

With a running time of nearly two hours, The ResErection picks up from where the once promising band left off, their seemingly skyrocketing career slowed to a halt by the overarching dependencies of lead singer Hank Von Helvete who went into a forced hiatus to regain control. The documentary, narrated in Norwegian with English subtitles, follows the singer through the intervening years of obscurity, and the rest of the band's realization that they weren't forgotten and in fact grew even bigger on a global scale. The results were realized when the band re-teamed with Helvete, showing a true camaraderie that's refreshing in the reckless scene where casualties and inner turmoil rule the game. And so it began, the ResErection of Turbonegro, the six members standing proud, at full length and full volume.

The DVD also features plenty of live footage stemming from their triumphant return for the massive Quart Festival where tens of thousands congregated from throughout the world for this momentous occasion that no one had a right to believe would exist. And the band, between their expectedly crude and childish demeanor, delivered the goods and then some, running through several favorites from "Ass Cobra" and "Apocalypse Dudes," six character actors in overly made up, exaggeratedly adorned and clowning like the classroom and stage were their personal playground and one in the same place.

Amidst the musical and visual carnage, DVD viewers are thrown a few extra bones by way of clips from other festivals along the way, behind the scenes rehearsals, Pal Pot Pamparius' pizza joint -- yes, apparently he does do this as documented in the "Age of Pamparius" track, band member interviews, and more mischief. Turbonegro is more than just a band-- the living proof was presented clearly during their four year absence. They're a lifestyle that's larger than life; six homespun and uniquely patterned individuals that fans can identify with and as the unit, whether spewing senseless verbiage about genitalia, or sparks from the singer's ass, they are a complete act -- the made-for-TV movie set to insane stage antics reinforced by three chord precision and chug-along choruses that get fists pumping and crotches thumping. It's been three years since they re-emerged from a self-imposed "darkness--" this documentary reveals why it ended and why it had to begin again.