VNV Nation
Matter & Form (Metropolis Records)
By: Vinnie Apicella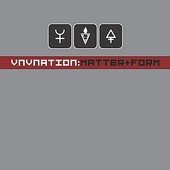 With origins dating back to 1990, the UK veterans were ahead of their time since they began, quickly becoming a trailblazing act in the Synth-Pop and EBM scene. On their fifth full length, Matter & Form, they continue forging ahead from where the stellar Future Perfect left off a few years earlier.

VNV represents a higher form of music, which examines humanity from an omniscient viewpoint and beckons a brighter future amidst conscientious lyrics, sizzling synth-lines, and restless beats. The album's eleven tracks are a powerfully electric presence that at once rumbles the ground beneath, lights up the sky and burns the dance floor with well patterned yet unpredictable rhythmic changes and mood shifts.

The hard charging character of "Chrome," gives way to the gentle contemplation of "Colours of Rain" or "Endless Skies," both of which flow easily into the listener subconscious, gracefully smooth and subtle, Ronan's voice echoing Peter Gabriel within an epicenter of emotion and cinematic acoustics; "Strata" and "Interceptor" traverse the stillness oft and again with flightier impulses, while "Homeward" is a stirring combination of slow and sudden that culminates in a typically classic Harris narrative on inner strength.

"Lightwave" and "Perpetual" are closing tracks of a club-rousing kind, with the latter embracing the best of UK New Wave beneath propulsive bass beats and futuristic energy that peaks in a ray of never ending light. Matter & Form again finds VNV Nation in peak form, justifying the faith of their devoted following as they enter their fifteenth year of making music.