INTERVIEW: All Shall Perish
A pulverizing new death metal band (All Shall Perish)
By: Mike SOS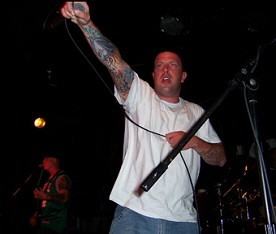 A pulverizing new death metal band has hit the scene, as the Bay Area's All Shall Perish come to us via Nuclear Blast Records. When speaking to drummer Matt through email while on tour in support of the band's debut HATE MALICE REVENGE, we found out some of the inside scoop on this quintet and its blistering new album, as well as how the band feels about the extreme metal scene.

MIKE SOS: How did you come up with your name?
MATT: Sitting in my room in Berkeley, California, reading news websites and thinking about the fucked up shit going on in the world and my own life at the time. The name itself is a simple truism, but it's something that we all too easily forget.

MIKE SOS: Where are you guys from and how has that shaped your music?
MATT: We are from Oakland, California. Being from California, especially the Bay Area, you are exposed to all kinds of music/scenes/people, and for us, it made us more diverse as a band and open to a lot of things.

MIKE SOS: Who are some of your musical influences?
MATT: Hatebreed, Irate, Blood Has Been Shed, Opeth, Cannibal Corpse, At the Gates, Dying Fetus, The Beatles, Journey, Michael Jackson, Queen, The Police. I could go on forever.

MIKE SOS: Give us some details about the new CD, where you recorded it and with who, what the toughest songs to record were, if there were any funny studio stories, etc.
MATT: We recorded at Castle Ultimate Studios in Oakland, CA with Zack Ohren, an incredible guy and a phenomenal engineer. All the songs were about the same to record: us yelling at each other, throwing shit, and pissing off Zack...it was a funny experience.

MIKE SOS: How does an ASP song get written?
MATT: We write a bunch of riffs, somehow arrange all the mess into some sections, and eventually a full song comes out. Then, come lyrics. We go over patterns first, and see what the song feels like lyrically. Once the lyrics are done, the song is complete and we argue about a title for a few months.

MIKE SOS: What's the best, worst, and toughest thing about playing in a death metal band?
MATT: Good question. Death metal is a weird scene, and it is totally different from the East Coast to the West Coast West Coast death metal can be tough for the underground, and on the east coast, death metal and hardcore might as well be the same scene. Most death metal bands are boring as shit these days. There are a few who rise above the fray, but too many are obsessed with blasts or how fast you can go and for how long, etc. A lot of times, we play ultra death metal shows and a lot of people just stand there and are like, "why is this under 250 bpm's?" But, then you got those great death metal fans that love diverse metal and are open minded. Best thing about being in a death metal band is being able to play shows with bands like Hate Eternal, Skinless, Cannibal Corpse, etc, just being accepted into that scene. The worst thing is being pigeonholed or stereotyped because you growl.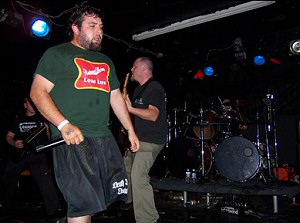 MIKE SOS: What bands are you currently listening to?
MATT: I am a dork and I listen to all kinds of crazy shit. Right now, the playlist goes something like new Underoath, new Death Before Dishonor, new Agnostic Front, Throwdown, and Sonata Arctica. This is just me, however. The rest of our band listens to all kinds of shit, from Michael Jackson to Implosive Disengorgance.
MIKE SOS: What do you think about the state of death metal in 2005?
MATT: It's funny, it's like there are so many shitty bands, that it somehow makes the few bands that come out and rock.that much better. Necrophagist, Nile, Dying Fetus, and Skinless are just a few of the bands who are keeping it interesting.
MIKE SOS: Do you prefer live shows or recording and why?
MATT: Live show by fucking far! Live shows are what keep this band alive, the energy and the fun that we have at the shows is the reward from all the bullshit of writing/recording/business. It's really all about the live show with this band. I think when you see a band live, it makes or breaks that band. I've seen so many bands live that have converted me to a fan even when I never liked their recordings. It just makes shit personal, and I love it.
MIKE SOS: Who are some of the bands you'd like to tour with?
MATT: Unearth, Bleeding Through, Opeth, and Cannibal Corpse just to name a few.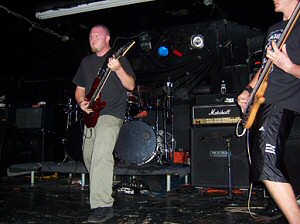 MIKE SOS: What has been your strangest show so far?
MATT: We played with A Thousand Falling Skies and Nehemiah in Oakland at this weird ass venue,and while no one was moving, this chick strolled in and proceeded to do a naked interpretive dance and climb into a trash can. She was really into A Thousand Falling Skies!
MIKE SOS: When I'm not in All Shall Perish, I'm...
MATT: Going to school at SFSU, working for a liberal radio station 960 am The Quake, or straight up chillin'.
MIKE SOS: What does the rest of 2005 look like for you guys?
MATT: Touring, followed by some more touring, topped off with a tour or two, to only begin touring again at the end of the last tour. And, dates with Hatebreed in December!
MIKE SOS: What would you like to say to the readers?
MATT: Have fun, enjoy life, check out some new music and party naked!