INTERVIEW: Jim Boggia
Sideman/studio musician goes front and center on second pop-rock solo record (Bluhammock Records)
By: Alex Steininger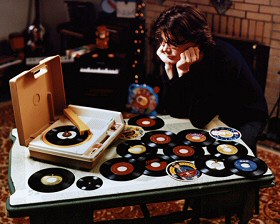 Jim Boggia is best known as a studio musician and touring side man. He's worked in the studio with Juliana Hatfield and toured with Jill Sobule. But, with the release of 2001's "Fidelity Is the Enemy" he established himself as a worthy singer-songwriter, too, delivering an album of memorable power-pop.

Selling 5,000 units ("I am very satisfied I've sold that much," he says laughing, "considering that when I did my first pressing they handed me 1,000 CDs and I wondered how I'd sell them all"), Boggia was able to land a label, Bluhammock, who released his sophomore record, Safe in Sound, recently.

"The story I'm told, since it all happened behind the scenes, and I don't pay too much attention to it all, was that this producer who was working with my manager was starting a new label, Bluhammock, and they came to a gig," he says regarding Bluhammock releasing his record. "Then there was five months of conversation, which I'm glad we did 'cause I've dealt with labels who love you until they realize what you're about and then they change their minds."

Boggia is about lush melodies, beautifully blossoming pop songs, and harmonies that make you swoon. He's a pop songwriter who delivers sugary, sweet songs, but has enough ability to put strong lyrics behind them, too, so the songs are more than strong melodies.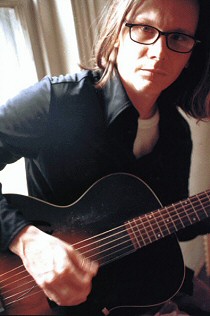 "The main thing I learned is that it is better for someone to give you money to go somewhere to make a record than begging studio time here and there, over the process of a year and doing it on your own money," he says of the deal with Bluhammock.
Having an indie label behind him also helped Boggia recently land a booking agent so he can do more touring to support Safe in Sound, something that was lacking for Fidelity Is The Enemy.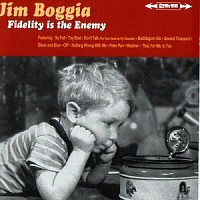 "I just signed up with a booking agent. So I will probably go out in July and August with a three-piece for a few weeks and hopefully get on someone else's tour, and then swing back and try to headline," he comments regarding touring.
With a label behind him, and more studio time stability afforded to him, Boggia set out to make the best record he could. Safe in Sound is that record, a record that showcases Boggia's ability to craft some of the smartest, if not moving pop music out there today.
"With Safe In Sound it was great to go into a studio with great players and make a record in a short amount of time," recalls Boggia. "Everything was great, and we were able to track in a short amount of time. However, with mixing we were very tight. I wish we'd had a couple more days. There were a couple of things that I hear, levels and other stuff like that, that others won't here, that I wish we could fix. Other than that I am very happy with the record".
Boggia's only complaints with the record, he tells me, are problems that others have dismissed, but something that his detail-oriented mind can't get past.
"I'm a very detail oriented person in general and there are things I hear like I should have panned something to the left, stuff like that, that I wish I could go back in change," Boggia admits. "But, I am really happy with the record overall."
Boggia also tells me that, "I'm not going to tell you what it is, but I feel there is one song on the record that I feel is underwritten and it is the song I felt pressured to finish by the label. But I've learned from it. What can you do? I still like the record."
And like the record he does. Boggia is proud of it when he talks about it, telling me about some of his favorite aspects of the record.
"I have favorite songs, but from a songwriter's point of view I like 'Underground' because it tells a story in an interesting way. I really like 'Show My Face Around', 'Slowly', and 'Talk About The Weather'" as finished records," he replies, when asked what really stands out for him, as a songwriter, on the record. "Different days I have different favorites. It's hard to say now because I'm still pretty close to it all. It's only in the last month to a month and a half that I've been able to listen to it with a clear head."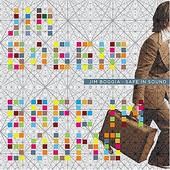 Safe in Sound is an interesting record. Well produced, mixed well, and the songwriting impeccable, it sounds like a near flawless pop gem. With this in mind, I ask Boggia how he goes about preparing himself for the studio and if, when he writes the songs, he envisions everything from start to finish or lets the record sessions shape the finished songs.
"A lot of times when I write I hear the stuff in my head. I hear the arrangements. I hear finished recordings and not just a melody, so it's hard for me to hear what is coming out of the speakers," he replies.
Boggia isn't working with Jill Sobule anymore, instead of focusing on Safe in Sound and touring in support of it. However, he says when the opportunity presents itself, he still loves to get on stage with Sobule.
"Whenever Jill is on the east coast I'll play with her because it's fun," he says. "I don't have time to make commitments like I did before. So now if I do then it's all a one-off . But I like the side-man thing, it can be fun, because you don't have the pressure of being the front person."
Look for Boggia touring both with a three-piece and solo acoustic around the East Coast and Midwest through the summer and fall.