INTERVIEW: Metermaids
The Quiet Rise of a Manhattan Rapper (Olympic Records)
By: Matt Vogt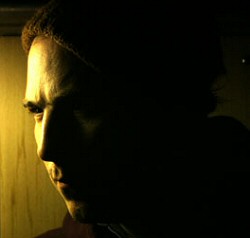 It's 9:30pm. Black streets glisten with a layer of rain and are filled with the sounds of cars returning home from a long workday. My phone rings. The exhausted voice on the other end belongs to New York City's underground rap sensation Sean Patrick McGaughan, known as Swell to his fans. After 12 hours of working at a job he can only describe as "sucking ass," he has a right to be tired. In his free time, Swell has been trying to promote his hip-hop project called Metermaids to hordes of Manhattan rap fans. And surprisingly, the hordes are starting to take notice.

So how does a white kid from the suburbs become an underground hip-hop star? I honestly don't have an answer. The New Jersey native is the unlikeliest rap star... from his rock music background, to his scruffy, So-Cal wardrobe. Swell looks more like a pop-punk front man than a rising MC, and that's a large part of his appeal.

"I've been playing in bands since high-school. Guitar mostly. I grew up listening to Radiohead and the Beatles," says Swell nostalgically. "I got hooked on melodies, those were the most important parts of those bands. That's what got me into music."

Melody sparked Swell's interest but it was high school friend "John" (Swell requested that John's true identity remain anonymous) that introduced him to hip-hop. "John had been making beats since he was like, I don't know--14 or 15. It was a completely different way of making music. What can I say? I became obsessed."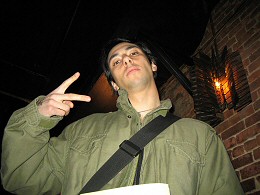 At this point Swell lets out a hardy laugh as he reminisces about how the two formed the rap group called My Dog Bear. Swell left college, a year shy of graduating, and moved out to San Francisco with John, where the two hoped to spark a following and live out their dreams. With an unpolished live show and little songwriting experience, however, time on the West Coast quickly became a right of passage instead of a path to fame. "I really didn't know much at first. Not as much as John anyway. He started teaching me how to make beats, how to mix, how to work in lyrics--everything. After awhile we started working off each other--we started to get good."
The duo was able to find a balance between John's knowledge of mixing and Swell's melodic ear to find an interesting niche in hip-hop. My Dog Bear sold 500 copies of their self-produced and distributed LP. Not bad for two kids from Jersey. Their career ended early, however, with a performance at Vassar College's Founder Day Festival. It was a solid venue for a young group that oddly marked the end of My Dog Bear. Swell lets out a deep breath, laced with apparent pain. "That was pretty big for us. We never expected anything to happen. We just gave it our best and things turned out pretty well." What could have been a great start turned out to be an early finish, as John opted for law school over an unpredictable music career.
My Dog Bear was suddenly no more, leaving the still inexperienced Swell with a choice: he either had to get a job, or take one last shot at the music industry. Swell took what he learned from John and focused on establishing a solo career. His approach to writing lyrics attempts to focus on "raw, unfiltered emotions cut with subtle humor," or what some misinformed critics might call "emo-rap."
Swell gets a little pissed when I mention the undeserved tag and says, "Well I can only write songs that mean a lot to me, and I can't battle rap so it's just a different way of expressing myself. I think where I'm coming from, it's a different thing. I can't write 'gansta' lyrics, my reality wasn't violent in New Jersey. My trauma was emotional, having girls not like you and things like that. Whatever any kid that grows up in the suburbs goes through." Swell should not be confused with emo artists who sing about getting dumped or the depression that comes with being a privileged white kid with too much money. Metermaids attempts to take a raw, critical view of Swell's life, making his songs rich with imagery and self-criticism. In other words, he doesn't come off as a whiny bitch like the members of Simple Plan.
Most tracks on his debut album, Metermaids: New Jersey to California, open with a melodic pulse similar to some jam bands while laced with backbeats reminiscent of rap tracks from the early 90s. Then Swell's voice enters, spouting rhymes about cigarettes, broken promises, and lost love. It's hard to make sense of everything on the first listen, but soon the original backbeats take a hold of your ear as Swell's rhymes find a way to merge with the eclectic mixes. As interesting as the album is, it really doesn't do the rapper justice. Even Swell admits that the debut is not up to his standards, subsequently pushing back the release date to allow for the remixing of key tracks.
Metermaids live is the best way to experience Swell's odd combination of melodic beats and emotional rhymes. His stage energy is unmatched by many large venue acts, and it's why he's been able to play popular clubs throughout Manhattan. "It was easier to be more dynamic when I was in a rock band. You can change the songs for a live show to be faster or whatever," says Swell. "It's weird with hip-hop because you can't rearrange the songs too much. So the only thing I can change is the delivery. And I try to deliver every time so all those eyes on me know that I'm giving it everything I got."
Swell was disenchanted by many hip-hop shows he had seen that featured rappers who did little to get the crowd involved or displayed an absence of energy. It was at the Dysfunctional Family Picnic when Swell saw Papa Roach perform and decided that the only way he would make it was by matching their intensity. "I'm not the biggest P-Roach fan or anything, but I gotta admit they put on a great fucking show. The crowd was into it. [The band] was stage-diving. Papa Roach made it exciting."
Metermaid 's manager Matt Miller is usually with Swell before a performance and watches his pre-show warm-ups. "Well, he gets nervous. Just kind of stops talking altogether so he can think about his show. Goes over his set list over and over. If you try to talk to him he'll just say 'can't talk, gonna throw-up right now.' So I usually leave him alone. Then he slams down some Whiskey, goes up there and does what Sean does," which is one a hell of a live act. Metermaid's fan Jon Eddey describes Swell's recent Mercury Lounge performance (where the rapper opened for MC Lars and Goldie Looking Chain) as, "Seriously one of the best acts I've seen. You would never expect this coming into a club show. The guy's amazing."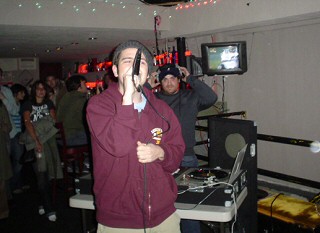 Within the past few months Swell has had to endure a monthly touring schedule paired with odd jobs just to keep afloat. Although, this is the life that Swell chose: one filled with hardship, poverty, and uncertainty. The fuel that propels him comes in the form of a sinking feeling when he hears the roar of newfound fans. "I'm really liking doing live shows, and I just want to keep trying to do as many live shows as I can to catch a [record] labels attention. I want to do this by building up a fan base."
Swell and his Metermaids project have taken the first step towards success by creating a following. Not an easy thing to do in Manhattan, a place filled with overly critical assholes. Next is the debut of New Jersey to California, which Swell hopes will sell better than his My Dog Bear venture. If it does, the Metermaids project has a legitimate shot at getting signed. If not, Swell will be forced to go back to an unfulfilling day job.
Whatever fate hands him the young rapper is content with the fact that he tried. "The bottom line is if you suck, you're not going to make it. It's as simple as that. I know I'm putting in everything and if it works out--great. If not it wasn't meant to be, and that's okay."